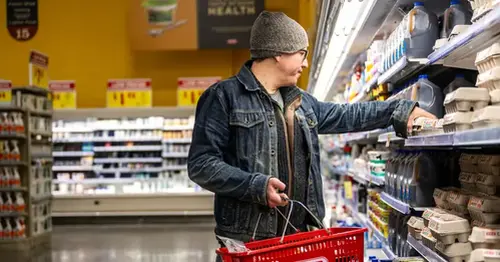 Inflation falls to 3% in June: Will the Federal Reserve raise interest rates again?
Inflation fell to 3% in June — the 12th-consecutive month of declines.
Forecasts called for 12-month consumer price increases to slow from 4% in May to 3.1% in June — just about 1 percentage point above the Federal Reserve's 2% inflation target.
The decline was led by gas prices, which have fallen to $3.54 compared with $4.66 a year ago according to separate data from AAA.
By one measure, the U.S. economy is already close to slaying the price inflation that has bedeviled it for the better part of two years.
Stock prices initially reacted favorably to the report, with all three major indexes roaring higher in advance of the 9:30 a.m. market open.
But the rest of the story for much of the economy — namely, the "core" inflation figure that reflects everything except food and energy prices — might be more difficult for consumers to bear, according to Riccardo Trezzi, lecturer at the University of Geneva and founder of a consultancy that focuses on underlying inflation.
In June, the core figure hit 4.8% compared with 5.5% in May, the Bureau of Labor Statistics said Wednesday.
"If you want to hit a [2% core inflation] target, unfortunately I suspect an unemployment pickup will be necessary," Trezzi said.
The unemployment rate in the U.S. tumbled dramatically from a high of 5.9% in June 2021 through the end of that year. Since then, it's averaged about 3.5%, landing at 3.6% last month. But the Fed continues to believe the unemployment rate will rise to 4.5% through 2024.
The reason the labor market has proven so resilient is the U.S. government and the Fed both took extreme measures to support the economy during the Covid-19 pandemic, and the momentum from those measures continues to be felt, Trezzi said.
The Fed has sought to reverse that momentum by raising interest rates, slowing demand and investment by making goods and services more expensive. However, those interest rate hikes take time to fully reflect in the broader economy.
Trezzi compared the situation to trying to turn around an ocean liner.
"You hit the brakes, but nothing really happens for a certain number of quarters," he said. "That's where we are."
A "soft landing" — bringing inflation down without significant job losses — has effectively already been achieved, Trezzi said, given that the 9% inflation rate the U.S. saw in June 2022 is now a distant memory.
U.S. economy added 209,000 jobs in June
July 7, 2023
03:08
It's still too early to celebrate
Rough waters are likely still ahead, Trezzi said, as the 12-month core inflation rate has stagnated above 5% after decades of averaging just 3.6%.
"I'm skeptical it can be done without imposing a burden on the labor market," Trezzi said of knocking down that core inflation number.
Others sharing this view include former Treasury Secretary Larry Summers, who accused the Fed of underestimating inflation for the past two years — and said that it will require raising interest rates much more aggressively to fully get inflation under control.
"They've been surprised on what's happened to inflation, and because they're surprised on what's happening with inflation and the strength of the economy, they're gonna be surprised by what they have to do to interest rates," Summers tweeted.
Not everyone agrees with this gloomier outlook. Speaking to CNBC on Friday, Austan Goolsbee, president of the Chicago Federal Reserve, suggested the economy may be on a rare "golden path" to achieving lower rates of inflation without a recession.
"The Fed's overriding goal right now is to get inflation down. We're going to succeed at it and to do that without a recession would be a triumph," Goolsbee said in a "Squawk on the Street" interview. "That's the golden path, and I feel like we're on that golden path. So I hope we keep putting off the recession to forever."
If one closely examines what has actually been driving the higher inflation data, there are two principal culprits: used car prices and airfare prices, according to Omair Sharif, founder and president of the research and analysis firm Inflation Insights.
Due to supply chain issues — and to a lesser extent, labor costs — prices in the auto market have soared — but are now showing signs of stabilizing, Sharif said.
The same is true for airfare, where jet fuel costs have fallen dramatically and where air carriers have now rolled out larger planes and more frequent flights in popular routes to handle surging demand.
In June, airfares fell 18.9% year-on-year and 8.1% between May and June alone.
"I don't think it has to take pain," Sharif said, referring to winning the inflation fight. While getting to a 2% inflation target may not happen until the latter half of 2024, "if you look at what's driving inflation, the bulk is always in transportation services" like cars and planes, he said.
More than two years into the current bout of inflation, the debate over its causes and the potential duration are ongoing — as well as the questions about how long it will take for monetary policy to rein it in.
Source: https://www.nbcnews.com/business/economy/inflation-right-now-will-federal-reserve-raise-interest-rates-rcna93445
Related Posts