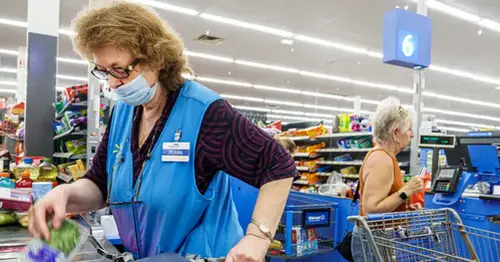 Inflation rate leveled off at 3.7% in September 2023: How the economy is looking now
Inflation leveled off to 3.7% in September compared to a year ago, extending a gradual slowdown in consumer prices, even as it slowed to 0.4% from 0.6% in August.
The Bureau of Labor Statistics released its latest round of price data Thursday morning. Experts had expected it to show that overall prices for consumers rose 3.6% from a year ago, and by 0.2% compared to August.
Meanwhile, core inflation — a measurement of cost increases that excludes energy and food prices because of their volatility — is up 4.1% from September last year, in line with expectations.
That means prices rose less in September than they did in August, when the cost of gasoline had spiked 10% from July.
The government said the cost of shelter rose 7.2% from a year ago. That was the largest reason for the increase, and it reflects continued growth in home prices, which by some measurements are at all-time highs.
Used car and truck prices continued to decline from a year ago.
Food prices grew 3.7%, matching the overall inflation reading, with food from restaurants and "away from home" up 6%. Energy prices slipped 0.5% and natural gas and oil prices also fell.
The report might be especially significant for the trajectory of the economy.
The Federal Reserve raised interest rates sharply from March 2022 through this summer as it tried to get inflation under control. Inflation had hit 40-year highs in mid-2022, peaking at 9.1% annually, and it has generally slowed since then.
That doesn't mean prices are lower than they were. Instead, they're rising at a slower rate. Still, those slower increases have been a relief to some consumers, and wages have been rising faster than inflation recently, which makes it easier for people to afford goods and services.
"Inflation is easing; it's edging lower. However, food and energy prices remain elevated, and the average American lives in an environment in which food and energy are basics for their budget. And that budget is climbing higher," said Quincy Krosby, the chief global strategist for LPL Financial.
What about interest rates going forward?
The Fed left rates unchanged in September, saying there had been progress in its fight against inflation. It's in wait-and-see mode now.
But after 12 consecutive monthly declines, inflation sped up again in July and August. The increases were small, and there were reasons experts weren't especially concerned about them — for example, gas prices spiked 10% in August.
Thursday's report doesn't make it clear what will happen next. There are signs inflation is easing, but it's not happening very fast, and inflation is still well above the Fed's stated goal of 2% per year.
"Core year-over-year [inflation] remains high, and the question is how much patience does the Fed have to finish the job," Krosby said.
Americans have generally remained willing to spend money because the job market looks healthy and pay for workers has been rising. But the combination of steady inflation and higher interest rates could erode that. Krosby points out that other factors like gas prices and the resumption of student loan payments could also drag down spending.
The Fed will meet two more times this year. Its main rate is now in the range of 5.25% to 5.5%, the highest since 2000.
Investors think there's about a 90% chance the Fed will leave interest rates alone at its next meeting, which ends Nov. 1. However, what happens at the December meeting is far less clear, with a roughly 60% chance of no change and a 40% chance of a rate hike, according to CME Group. That's based on its analysis of options prices.
Source: https://www.nbcnews.com/business/economy/inflation-september-2023-how-economy-looks-now-consumer-price-index-rcna119776
Related Posts