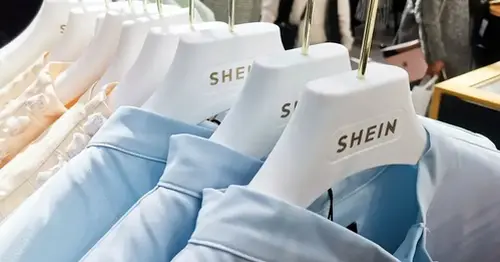 Influencers praise conditions in Shein factory despite abuse allegations
Influencers who went on a trip to fast-fashion giant Shein's manufacturing facilities in China came away from the experience posting videos praising the company and throwing cold water on allegations of forced labor and other abuses.
Viewers were more skeptical.
Influencers including Dani Carbonari (@danidmc), AuJené Butler (@itsjustajlove), Marina Saavedra (@marinasaavedraa) and Destene Sudduth (itsdestene_) visited the Shein facilities in Guangzhou, China. None of them immediately responded to requests for comment.
In their videos, the influencers said they spoke to employees about their working conditions and were told everything was "normal." They also emphasized how clean and technologically-advanced the factories were.
There have been reports of alleged forced labor abuses, human rights violations and potentially hazardous materials in clothing at Shein. 
Shein has denied forced labor allegations and removed potentially toxic products from its app. A spokesperson previously told CNBC, "As a global company, our policy is to comply with the customs and import laws of the countries in which we operate. SHEIN continues to make import compliance a priority, including the reporting requirements under U.S. law with respect to de minimis entries."
British public broadcaster Channel 4 made a documentary titled "Inside the Shein Machine: UNTOLD" in October 2022 exposing 18-hour work days, low pay and few breaks. Additionally, U.S. lawmakers accused the brand of violating the Uyghur Forced Labor Prevention Act, which prohibits the importation of goods manufactured using forced or underpaid labor by Uyghur workers, who are part of the marginalized and persecuted Muslim minority group in China.
As a result, viewers were skeptical of the influencers' videos and believed the creators were presented with a sanitized version of the actual conditions at Shein.
In an emailed statement on Monday, a spokesperson for Shein told NBC News, "SHEIN is committed to transparency and this trip reflects one way in which we are listening to feedback, providing an opportunity to show a group of influencers how SHEIN works through a visit to our innovation center and enabling them to share their own insights with their followers."
"Their social media videos and commentary are authentic, and we respect and stand by each influencer's perspective and voice on their experience," the statement continued. "We look forward to continuing to provide more transparency around our on-demand business model and operations."
What did influencers show and say in their videos?
Sudduth posted a TikTok from Shein's "innovation center," where the company produces samples for its manufacturers. She said she asked workers questions based on her followers' concerns about the brand.
"Upon interviewing the workers, a lot of them were confused and taken aback by the child labor questions and the lead in the clothing questions because they basically said, 'Our kids want to be on social media just like y'all,'" Sudduth said in her TikTok. "They're not working in factories and our clothing goes through rigorous testing before production."
Sudduth went on to claim the employees work from 8 a.m. to 6 p.m. She also said she expected to see people "slaving away" but that workers were "chill" and "not even sweating."
Similarly, Butler made an Instagram Reel saying she expected conditions to be crowded and dingy, but was surprised by what she saw. She said she also asked questions on behalf of her followers and was told Shein has a third-party contractor that audits its manufacturers to ensure it is complying with international laws.
"To be honest, a lot of these employees are just people who are trying to make a decent living," Butler said in her Reel.
Carbonari also said she interviewed a worker in the fabric-cutting department, who answered "honestly and authentically." Carbonari said the worker was surprised by the "rumors being spread in the U.S." about Shein.
Carbonari called the trip "impactful" and said her biggest takeaway was to be an "independent thinker." She said she felt confident in her partnership with Shein after the trip.
Why are people upset about the trip?
While the trip seemed to reassure the influencers about Shein's working conditions, viewers criticized the creators for pushing "propaganda" and "selling out" for a free trip.
"Feigning ignorance about this company is not a good look. You're being called out across the internet," one commenter wrote on one of Carbonari's Instagram posts. "There's no way you didn't know that this company is bad… you'd have to be living under a rock."
"Was the bag worth losing your ethics and helping propaganda," another wrote under one of Butler's Instagram posts.
"This is the part that they wanted you to see so you can give the socials a good report," one person wrote under one of Sudduth's Instagram posts.
Carbonari is the only one that has responded publicly on social media, although her TikToks addressing the backlash have been deleted. It's unclear why the videos were taken down. 
In a now-deleted TikTok, Carbonari said she received hateful comments for attending the trip. She accused critics of being xenophobic and misunderstanding China.
"I know who I am, I know exactly what I'm doing, and to be a pioneer, you gotta take a lot of s--- sometimes," she said in the video.
In another deleted video, Carbonari said Shein was the first company to take her on a brand trip. Some viewers felt that Shein took advantage of influencers from marginalized backgrounds, specifically a plus-sized woman and two Black women, who typically get fewer opportunities than thin, white women. (Shein did not immediately reply to request for comment on this allegation.)
NBC News previously reported that Black influencers are less likely to receive gifts and promotional opportunities from brands.
The trip was part of the "Shein 101" online docuseries, which is a weekly series that gives people a behind-the-scenes look at Shein's warehouses and addresses questions about its workers, sustainability efforts and business models.
Source: https://www.nbcnews.com/news/shein-china-factory-video-influencers-exploitation-conditions-rcna91131
Related Posts