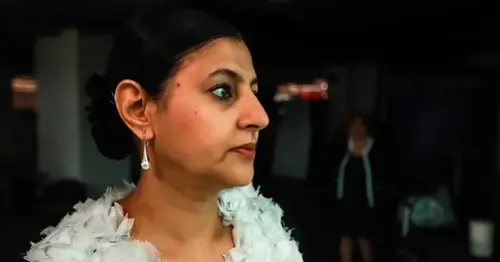 Jamal Khashoggi's widow says he wouldn't want Saudi Arabia penalized amid golf deal
The widow of Jamal Khashoggi, the Washington Post columnist whose 2018 murder fueled international outrage and embroiled Saudi Arabia's crown prince in scandal, says her husband's killing should not prevent the country from cutting major deals in the United States or turn it into a pariah state.
In an interview Friday with NBC News, Hanan Elatr Khashoggi said that her late husband would agree that the people of Saudi Arabia — the country of his birth — shouldn't be penalized because of the actions of a few. The Saudi government has come under scrutiny again after reaching a surprise deal last week between LIV Golf, a Saudi-backed upstart league, and the PGA Tour, an organizer of top-level professional golf tournaments mostly in the U.S.
Saudi Arabia's sovereign wealth fund would invest billions of dollars in the Saudi-U.S. leagues' joint venture, representing the latest bid by the Saudis to gain a foothold in another major U.S. market even as critics contend the kingdom continues to dodge accusations of human rights abuses.
The chair of the Senate Finance Committee announced Thursday that he has opened an investigation into the planned merger and its implications for U.S. national security.
"I would like Saudi Arabia not to be abandoned, not to be a pariah country because Jamal Khashoggi never asked this to be done to his country," said Hanan Elatr Khashoggi, who filed a lawsuit this week related to his death.
"Generally speaking, the golf thing is [a] sport deal, economic deal, political deal, with any country in the world," she said. "I don't want Saudi Arabia to suffer ... and the public, we will suffer, because of the act of 20 individuals — I say mentally sick, they are criminal."
Khashoggi's wife asks U.S. and U.N. for help in recovering devices from Turkey
Feb. 8, 2023
02:23
Jamal Khashoggi was slain in the Saudi consulate in Istanbul in a killing that the U.S. government concluded was approved by Saudi Crown Prince Mohammed bin Salman. His body was dismembered in part with a bone saw, American officials have said, and his remains have never been found. He had been a vocal critic of the crown prince and the government.
On the presidential campaign trail in 2019, then-Democratic candidate Joe Biden had described Saudi Arabia as a "pariah" state.
But the Biden administration's tense relations with the kingdom have eased. Last week Secretary of State Antony Blinken met with Crown Prince Mohammed in his first bilateral visit to Saudi Arabia as the top U.S. diplomat.
The two "affirmed their shared commitment to advance stability, security and prosperity across the Middle East and beyond," according to a readout of the meeting shared by the State Department.
Hanan Elatr Khashoggi, who currently lives in Virginia, has been on a mission in recent months, seeking help from the U.S. government and the United Nations to recover a laptop, tablet and two cellphones belonging to her late husband held by the Turkish government. She wrote in letters shared with NBC News in February that she believes the devices "will reveal previously undisclosed details about my husband's murder that are critical to knowing the full truth."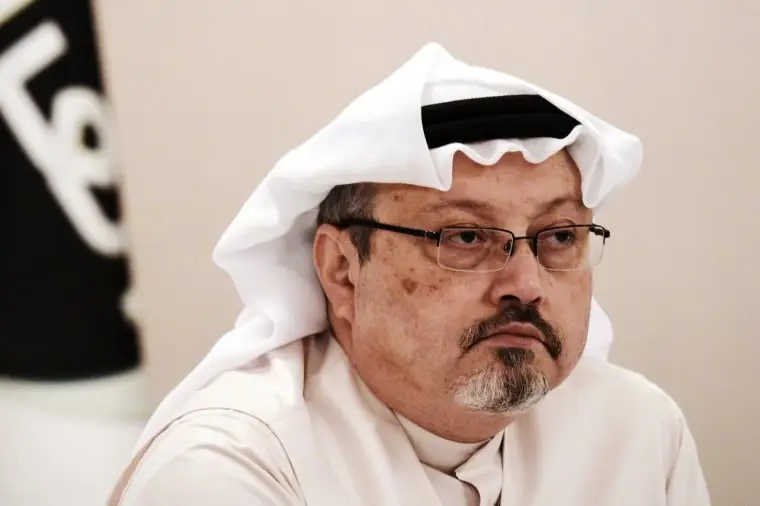 Hanan Elatr Khashoggi, an Egyptian citizen, has said she cannot pursue legal action in Turkey because she is in the U.S. under political asylum, does not have a passport and does not have the necessary finances.
She filed a lawsuit Thursday in federal court in Virginia against the cyberintelligence firm NSO Group. She believes the Israeli surveillance company's Pegasus spyware was installed on her two Android phones without her knowledge when she was in the United Arab Emirates months before her husband's death.
"For nearly a year leading up to Jamal's murder, Hanan's phones had been infiltrated by NSO Group spyware," according to the complaint, which says the company violated federal and state anti-hacking laws. "Hanan was then left to deal with the knowledge that her late husband's life was cut short by Saudi agents who perpetuated the killing, using, upon information and belief, knowledge about Jamal obtained by NSO Group from Hanan's own devices, which were transformed into handheld spies."
Hanan Elatr Khashoggi is seeking a jury trial and unspecified damages as "she lives in a state of constant hypervigilance," the suit says.
NSO Group could not immediately be reached for comment Friday but has denied any involvement in Khashoggi's death.
"NSO has repeatedly stated that our technology was not associated in any way with the heinous murder of Jamal Khashoggi or any of his family members, including Hanan Elatr," an NSO Group spokesperson previously said.
Hanan Elatr Khashoggi remains adamant that if it wasn't for the software on her phone, her husband would still be alive.
"Because they will not listen to what his movement, what he's thinking, who we met," she said Friday.
After first denying the murder, the Saudi government later reversed course and asserted that Khashoggi was killed by accident as a team of intelligence operatives sought to forcibly extradite him. The Saudi government said that the team acted on its own and that the crown prince was not involved.
Eight men were convicted in a trial that international observers called a farce; five received the death penalty. Their sentences were commuted to 20 years after they were reportedly forgiven by Khashoggi's relatives.
In light of the unresolved questions over her husband's death, Hanan Elatr Khashoggi said she continues to remember him for his pursuit of the truth.
Source: https://www.nbcnews.com/news/world/jamal-khashoggis-widow-says-wouldnt-want-saudi-arabia-penalized-golf-d-rcna89767
Related Posts