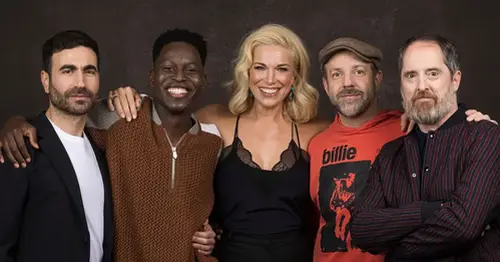 Jason Sudeikis and 'Ted Lasso' cast members to visit White House
The cast of hit show "Ted Lasso" is expected to visit the White House on Monday to discuss efforts to address mental health needs with President Joe Biden and first lady Jill Biden.
According to an Apple TV+ statement, the group of visitors will include Emmy-winning comedian and actor Jason Sudeikis, who plays the show's namesake soccer coach.
The pandemic-era show often includes themes of optimism, kindness, and determination. The character Dani Rojas, a soccer pro coached by Lasso, made the saying, "Fútbol is life!" into a catchphrase in 2021.
Biden has invested hundreds of millions of dollars in federal, state and local efforts to better deal with Americans' mental health issues.
Calling the state of the nation's mental health a crisis after the pandemic curtailed socializing and made many workers and children homebound, the president last year argued for a major taxpayer investment in solutions.
The administration has put federal money behind expanding school-based mental health treatment and training first responders on how to respond to people in the midst of mental health emergencies.
Source: https://www.nbcnews.com/politics/joe-biden/jason-sudeikis-ted-lasso-cast-members-visit-white-house-rcna75677
Related Posts