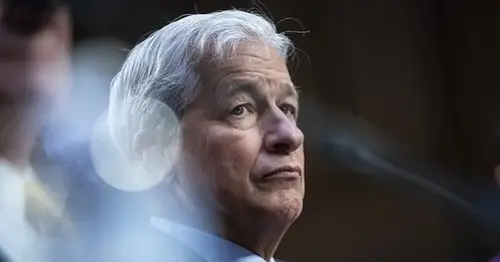 Jeffrey Epstein accuser seeks new testimony from JPMorgan CEO Jamie Dimon
Lawyers for a Jeffrey Epstein victim asked a federal judge on Friday to allow them to take new testimony from JPMorgan Chase CEO Jamie Dimon and others as part of a lawsuit against the bank over its dealings with sex predator Epstein.
The lawyers, who deposed Dimon for the suit last month, alleged in a Manhattan District Court filing that JPMorgan has "strategically" failed to promptly turn over documents to them as part of the case, as required by Judge Jed Rakoff.
That prevented the accuser's lawyers from asking questions about those documents at the time Dimon and other key witnesses were deposed, according to the filing by attorney Sigrid McCawley.
New details on days leading up to Jeffrey Epstein's death revealed
June 2, 2023
02:32
The filing says that after Dimon's deposition, JPMorgan "produced 1,500 documents, some of which came from the custodial files of witnesses whose depositions had long passed."
The accuser, who is suing under the pseudonym Jane Doe, in her suit claims that JPMorgan facilitated and financially benefited from Epstein's sex trafficking of her and other young women for years when he was a customer of the bank.
The government of the U.S. Virgin Islands alleges the same claim in a separate lawsuit pending in the same courthouse.
JPMorgan denies any wrongdoing but has said it regrets having had Epstein as a client.
In addition to Dimon, the accuser's lawyers want to reopen the depositions of Mary Erdoes, who is CEO of JPMorgan's asset and wealth management division; Mary Casey, who was Epstein's banker for about a decade at JPMorgan; and a fourth person, only identified in the filing as JPMorgan's "representative."
All four would be asked about documents turned over only after their initial depositions, the filing said.
One such document, turned over after Dimon's deposition was taken May 26, "appears to refer to a 2019 internal review of [redacted] electronic communications with Jeffrey Epstein, conducted after Epstein's 2019 arrest and death," according to the filing.
One late-produced document was a timeline that among other things referenced emails in which a then-top bank executive Jes Staley asks Epstein a question.
"These documents demonstrate that JPMC was fully capable of learning the full extent of Epstein and Staley's personal relationship ... and yet waited to do so until 2019 despite the myriad red flags and public reports about Epstein's conduct over the years," the filing said.
"Plaintiff would have confronted JPMC's CEO, Mr. Dimon, with this document during his deposition had it been produced in a timely manner," the filing said.
McCawley noted that Rakoff in May had admonished JPMorgan for turning over documents to the plaintiff's legal team "at an inexplicably slow rate."
More from CNBC
What Tesla charging partnerships with Ford and GM mean for the EV industry
JPMorgan bond chief Bob Michele sees worrying echoes of 2008 in market calm
1 in 5 student loan borrowers at risk of struggling when payments resume, consumer watchdog warns
"Despite the Court's clear warning, JPMC still failed to expeditiously produce documents from the custodial files of key witnesses, some of whom had already been deposed, for strategic reasons," the lawyer wrote.
"For example, the weekend prior to the close of fact discovery, and immediately after the May 26 deposition of its CEO Jamie Dimon, JPMC produced 1,500 documents, some of which came from the custodial files of witnesses whose depositions had long passed," McCawley wrote.
"This pattern of producing documents from the custodial files of witnesses after their depositions has persisted throughout the discovery period."
Source: https://www.nbcnews.com/news/us-news/jeffrey-epstein-accuser-seeks-new-testimony-jpmorgan-ceo-jamie-dimon-rcna88643
Related Posts