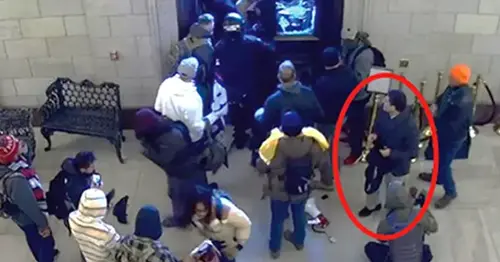 Jewish newspaper's former editor charged over Jan. 6 actions
The former top editor of a Brooklyn-based Jewish newspaper was arrested Thursday on a charges tied to the Jan. 6 attack on the Capitol.
The charges against Elliot Resnick, who was arrested in Manhattan, include obstructing law enforcement and assaulting officers. At the time of the riot, Resnick worked for The Jewish Press.
Resnick, 39, was allegedly one of the first rioters to push his way inside the Capitol through the East Rotunda doors. According to court documents, he was among a group that rushed up the stairs when the police line fell near the East Plaza of the Capitol and illegally entered the building.
An FBI investigator said in court documents that leading up to the riot, Resnick had repeatedly posted on social media questioning 2020 election results. In one post on Parler, he allegedly wrote, in part, "when you flagrantly break election laws, there should be consequences."
Video footage from Jan. 6 showed Resnick grabbing and holding the arm of a Capitol Police officer who was using a chemical irritant to keep rioters from breaching the Capitol doors, the FBI investigator said.
After breaching the doors, Resnick pulled other rioters into the Capitol with him, and remained inside the building for close to an hour, court documents say. Resnick was also allegedly seen, on Metropolitan Police Department body camera footage, walking around restricted Capitol grounds after leaving the building.
At the time of the riot, Resnick was employed by The Jewish Press, where he had worked in various roles for 14 years before becoming chief editor. He left the outlet in May 2021.
In response to an April 2021 Politico article on Resnick's presence at the Capitol on Jan. 6, the newspaper's editorial board said in a statement that Resnick was "covering the rally and the rest of the day's terrible events" for the paper.
"The Jewish Press does not see why Elliot's personal views on former President Trump should make him any different from the dozens of other journalists covering the events, including many inside the Capitol building during the riots, nor why his presence justifies an article in Politico while the presence of other reporters inside the building does not," the board said.
Resnick and the Jewish Press did not immediately respond to requests for comment Thursday evening.
Source: https://www.nbcnews.com/politics/justice-department/jewish-newspapers-former-editor-charged-jan-6-actions-rcna75368
Related Posts