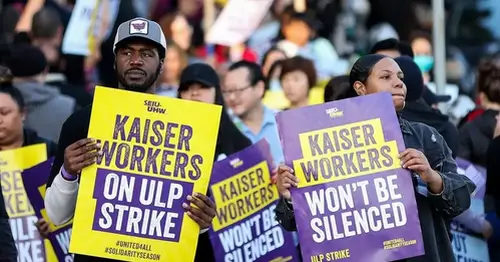 Kaiser Permanente strike: Why workers walk out across the U.S. calling for 'respect and value'
AURORA, Colorado — From coast to coast Wednesday, more than 75,000 Kaiser Permanente workers picketed outside of health care facilities, arguing that staffing shortages have reached crisis levels for employees and patients alike.
The strike, which the Coalition of Kaiser Permanente Unions has said is the largest work stoppage of health care workers in U.S. history, was on display from California to Virginia, with workers walking out at 6 a.m. local time. 
The striking workers include a wide array of professionals, including vocational nurses, ultrasound sonographers, respiratory therapists, emergency department technicians, housekeepers and more.
The majority of striking workers were in California, according to a representative: 60,000 from the Service Employees International Union-United Healthcare Workers West, and an additional 5,000 from the Office and Professional Employees International Union, Local 30 in San Diego.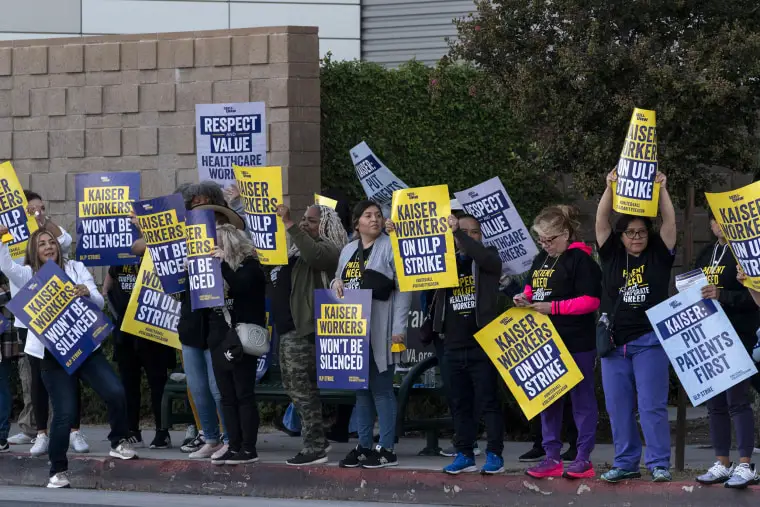 In Sacramento just before 7:30 a.m. PT, striking workers lined the street outside of a medical center, holding signs that read "Kaiser workers won't be silenced" and "Respect and value health care workers." Some shook tambourines, rang yellow bells or banged on pots. Many drivers honked in support as they passed by.
On the other side of  the country, outside of the Kaiser Permanente Springfield Medical Center in Springfield, Virginia, workers chanted, "Hey Kaiser, come on out, we've got something to talk about!" Some were dressed in white coats as they marched.
Sarah Levesque, the secretary-treasurer for OPEIU Local 2, told NBC News' Tom Costello that workers were "looking for Kaiser executives to come to the table and bargain in good faith over the short-staffing crisis." She said there were about 180 optometrists and pharmacists striking in Springfield.
"We just don't have the staff to adequately take care of our patients," Levesque said. "These people got into health care because they wanted to take care of patients and they're just stretched too thin. It's taking up to three months to get appointments with some of the doctors."
David Hawa, an ambulatory care pharmacist in Springfield, echoed those concerns.
"We don't have enough pharmacists to deliver the health care needed for our patients," he said.  
The result of that, he said, is "longer lines, cancellation of appointments. frustrated customers on the phone or in line."
"It's not the best we can do, and it's not fair for our patients," he said.
The same sentiment prompted workers to strike in Aurora, Colorado, a suburb of Denver.
"We're short-staffed and patients have to wait more than a month to be seen," said Lorena Jackson, who works in scheduling in primary care. "By then, you're either feeling better, dead or you have to pay more money out-of-pocket to visit urgent care."
Employees said they were also protesting for more wages in light of skyrocketing housing prices in Colorado.
"The price of living is too high and these companies need to start paying accordingly," said Lavette Clardy, who also works in scheduling and is a labor union member with SEIU Local 105. "People are here risking their lives and can't afford a work-life balance and enjoy their families." 
Based in Oakland, California, Kaiser Permanente is a nonprofit health system that serves nearly 13 million people in its 39 hospitals and more than 600 medical facilities nationwide, according to its website.
The health care worker strike comes amid a swell of recent work stoppages across various professions, including autoworkers and the entertainment industry.
The strike, set to last up to three days in some areas of the country, came after labor negotiators and Kaiser Permanente failed to reach a new contract deal before the previous agreement expired on Saturday.
Talks are ongoing, according to a spokesperson for Kaiser Permanente, who said in a statement after the strike began that "there has been a lot of progress, with agreements reached on several specific proposals late Tuesday." The spokesperson added that hospitals, emergency rooms and pharmacies would remain open during the walkout.
The strike began in Washington, D.C., and Virginia at 6 a.m. ET before expanding to Colorado, California, Oregon and Washington, according to the Coalition of Kaiser Permanente Unions.
The coalition said workers were taking action to "protest Kaiser executives' bad faith bargaining, which is getting in the way of finding solutions to solve the Kaiser short-staffing crisis by investing in its workforce."
Source: https://www.nbcnews.com/news/us-news/kaiser-permanente-strike-workers-respect-value-rcna118821
Related Posts