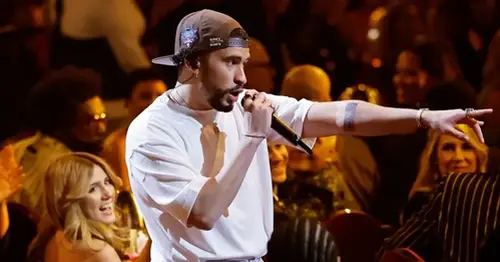 Latin music revenue exceeds $1 billion for the first time in 2022
Latin music has been growing at a rapid pace — and it just hit a milestone.
A report released Wednesday by the Recording Industry Association of America shows that, in 2022, Latin music revenue exceeded $1 billion for the first time. It also saw a 24% annual increase, outgrowing the broader industry.
"When Bad Bunny's Un Verano Sin Ti became the first non-English language album to ever top the Billboard 200 or [when] Becky G, Daddy Yankee, Jhay Cortez, Karol G, Luis Miguel, Rosalia and Sofía Reyes hit the mainstream, it was clear Latin music's hot streak was just lighting up," Rafael Fernandez, RIAA's senior vice president of state public policy and industry relations, said in the report. "That sustained expansion speaks to an openness to new artists, music and ways of listening."
The majority of Latin music revenues was almost entirely made up from streaming, at 97%, growing 25% from the previous year to $1.06 billion. Paid subscriptions accounted largely for the growth, making up 71% of the overall streaming revenues and outpacing other digital formats.
After adjusting for inflation, the revenues were just 3% shy of reaching the all-time high from 2005, the report noted. Overall, the share of U.S. recorded music revenues from Latin music reached an all-time high of 6.9%, a 1% increase from 2021.
Ad-supported on-demand streams from platforms like YouTube, Vevo and Spotify's free version saw an annual increase of 24% to $230 million, indicating a double-digit growth for the category.
Revenues decreased 5% to $73 million in customized radio services like internet radio, Pandora and SiriusXM. The category accounts for 7% of overall streaming revenues.
Source: https://www.nbcnews.com/news/latino/latin-music-revenue-exceeds-1-billion-first-time-2022-rcna79428
Related Posts