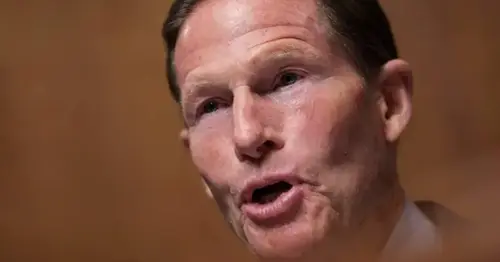 Lawmaker demands more information about PGA Tour and LIV Golf merger
Sen. Richard Blumenthal, D-Conn., on Monday demanded to see records from PGA officials outlining work that ended in the tour's merger with Saudi Arabia-backed LIV Golf.
Blumenthal, chairman of the Senate Permanent Subcommittee on Investigations, said he fears the risks brought on by the Saudi government taking hold of a popular athletic pastime.
PGA Tour's agreement with the Saudi's Public Investment Fund regarding LIV Golf "raises concerns about the Saudi government's role in influencing this effort and the risks posed by a foreign government entity assuming control over a cherished American institution," the lawmaker wrote in a letter to PGA Tour Commissioner Jay Monahan.
Blumenthal appeared to cite the PGA's own words and actions prior to last week, when the tour appeared to stand in total opposition to LIV.
Just one year ago, Monahan famously said any player aligned with LIV should feel the world's shame: "I would ask any player that has left, or that would ever consider leaving, have you ever had to apologize for being a member of the PGA Tour?"
"PIF has announced that it intends to use investments in sports to further the Saudi government's strategic objectives," according to Blumenthal. "It established LIV Golf Investments in 2021 to serve this goal. Critics have cast such Saudi investments in sports as a means of 'sportswashing' — an attempt to soften the country's image around the world — given Saudi Arabia's deeply disturbing human rights record at home and abroad. In fact, prior to this agreement, PGA Tour was one of the loudest critics of LIV Golf's affiliation with Saudi Arabia."
Blumenthal said the PGA Tour's tax-exempt status gives his committee the authority to demand documentation and answers from the organization.
"We are confident that once Congress learns more about how the PGA TOUR will control this new venture, they will understand the opportunities this will create for our players, our communities and our sport, all while protecting an American golf institution," the PGA said in a statement.
A representative for LIV declined to comment on Monday.
Source: https://www.nbcnews.com/business/business-news/pga-tour-liv-golf-merger-fallout-lawmaker-demands-information-rcna88876
Related Posts