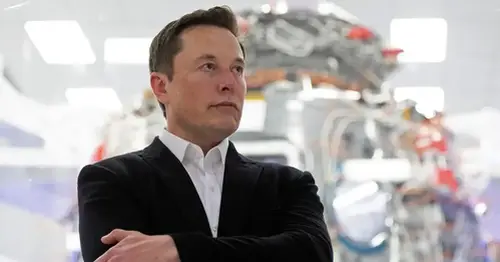 Lawyers press Elon Musk in second day on witness stand over failed Tesla take-private deal
Tesla CEO Elon Musk told a jury Monday in San Francisco that he was merely considering taking Tesla private when he tweeted in 2018 that he had "secured" funding to do so — and that the funding was going to come in part from his stake in SpaceX, Musk's rocket company.
But Nicholas Porritt, the attorney representing Tesla shareholder plaintiffs in the case, argued that in previous depositions on the matter, Musk never mentioned SpaceX. Porritt argued the tweet was made based on conversations Musk had with officials from Saudi Arabia's public investment fund about a deal that was far from materializing.
Musk is being sued by Tesla investors who claim the August 2018 take-private tweet caused them to lose substantial sums of money. U.S. District Judge Edward Chen has already ruled the tweet was false and reckless — but Musk believes he can convince the jury that he did not know the tweet was false when he sent it, and that in any case the movements of Tesla's stock price are not directly tied to his tweets.
What to expect from Elon Musk's trial over 2018 Tesla buyout tweets
Jan. 18, 2023
04:09
"Just because I tweet something does not mean people believe it or will act accordingly," Musk told the jury Friday in San Francisco federal court.
Because judge has already ruled that the "funding secured" tweet was reckless, Porritt must convince the jury that Musk willfully lied in the tweet and thus cost shareholders millions of dollars.
On the witness stand Monday, Musk continued to defend his thinking behind the tweet, stating it was designed to reassure shareholders ahead of an article set to be published by The Financial Times that the Saudis had taken a $2 billion position in the company.
In his questioning of Musk, Porritt went through a litany of accepted behaviors, like consulting with lawyers or a company's board of directors, that he argued Musk should have undertaken before tweeting about taking Tesla private but which he said Musk ignored.
Porritt further argued that there was no basis for Musk to publicly disclose that the funding had been secured, given that no documentation about a deal had been created.
But Musk insisted that the logic behind the tweet was sound, based upon statements he said were relayed to him by a Saudi official.
"With the prior investment they'd done, there was no discussion of price, no documents signed," Musk said. He added: "It's reasonable to expect they'll behave the same in the future as they have in the past."
Musk's attorney, Alex Spiro, asked Musk whether he thought he was being truthful when he sent the "funding secured" tweet.
Musk said he did.
"I thought we had a deal — a done deal," Musk said of the proposal to take Tesla private.
Musk said he was motivated to tweet about the deal to ensure Tesla investors were aware of the proposal.
"It's important that all investors have the same information when making a buying or selling decision. … I wanted to make sure all investors, large and small, had the same information," Musk said on the witness stand.  
At one point, Musk said he believed he had raised more money than anyone else in history — because "investors trust me to be truthful and responsible with their money," he said.
In opening statements last week, Spiro said Musk believed he had financing from Saudi backers and was taking steps to make the deal happen. Fearing leaks to the media, Musk tried to protect the "everyday shareholder" by sending the tweet, which included "technical inaccuracies," Spiro said.
Porritt argued Musk knew that a deal between Tesla and Saudi Arabia's public investment fund had not yet materialized.
The trial is a rarity: Most shareholder lawsuits are either dismissed or settled out of court. In 2019, Musk convinced another jury that he did not defame British cave diver Vern Unsworth when he called Unsworth a "pedo guy" in another 2018 tweet.
Source: https://www.nbcnews.com/business/business-news/tesla-shareholders-lawsuit-elon-musk-testimony-what-happened-rcna66986
Related Posts