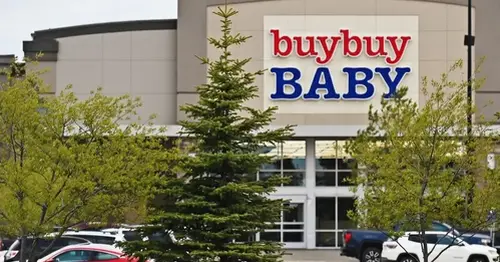 Little-known N.J. baby retailer tentatively wins rights to Buy Buy Baby's IP for $15.5 million
A little-known baby retailer based in Piscataway, New Jersey, has tentatively won the auction for the intellectual property of Bed Bath & Beyond's crown jewel Buy Buy Baby, according to court records. 
Dream on Me Industries, which sells cribs, strollers and other baby goods through a host of retail partners, won the Wednesday auction with a bid price of $15.5 million, court records filed Friday say. The acquired assets include Buy Buy Baby's intellectual property, business data, internet properties and mobile platform, the records say.
Wednesday's auction was only for Buy Buy Baby's intellectual property, after its parent company Bed Bath & Beyond decided to split up the sale process in an apparent effort to secure a higher bid price. Another auction for all of Buy Buy Baby's assets, including its many stores, will be held July 7, the records say. 
Dream on Me's win is only tentative. If Bed Bath & Beyond receives a higher bid at the upcoming auction, it could lose the rights to Buy Buy Baby's intellectual property.
Everyday Health Media, a digital media company that produces health and wellness content, was selected as a backup bidder. 
More from CNBC
Tesla shares rise nearly 7% after delivery and production numbers beat expectations
Bluesky experiences 'record-high traffic' after Elon Musk imposes rate limits on Twitter
Rivian shares surge as second-quarter EV deliveries top estimates
Buy Buy Baby has long been seen as the most valuable part of its parent company's enterprise. But the winning bid price is $6 million less than the $21.5 million Overstock.com agreed to pay for just Bed Bath & Beyond's intellectual property in a deal that closed earlier this week.
Still, in its most recent quarterly securities filing, Bed Bath noted the intangible value of its trade names and trademarks for the entire business was just $13.4 million. The two deals combined more than double that total.
Earlier this month, an unknown bidder who was interested in keeping 75% of Buy Buy Baby's stores open was seeking an additional $50 million in capital to shore up its proposal, CNBC previously reported. It's not immediately clear if that bidder is still in the race, but the figure offered insight into how much bidders would need to purchase the entire Buy Buy Baby business and keep it running as a going concern.
Since it declared bankruptcy in late April, Bed Bath & Beyond has been determined to sell its assets at the highest price possible. The company has repeatedly pushed back several auctions as it worked to secure buyers. 
Interest has largely centered around Buy Buy Baby, but the sale process is increasingly uncertain after doubts grew in the days ahead of the auction about the number and size of bids, CNBC previously reported.
Source: https://www.nbcnews.com/business/consumer/little-known-nj-baby-retailer-tentatively-wins-rights-buy-buy-babys-ip-rcna92413
Related Posts