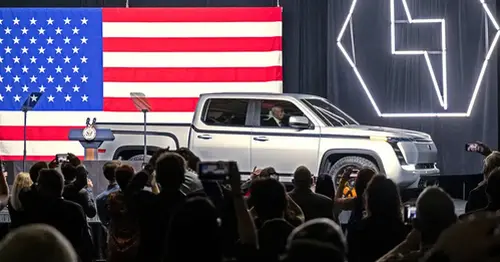 Lordstown Motors files for bankruptcy, sues Foxconn
U.S. electric truck manufacturer Lordstown Motors filed for bankruptcy protection on Tuesday and put itself up for sale after failing to resolve a dispute over a promised investment from Taiwan's Foxconn.
Shares of Lordstown tumbled 35% in trading on the Nasdaq. The company's bankruptcy is not the first among the crop of EV startups that went public during the pandemic-era SPAC boom. But Lordstown was a high-profile member of that class because it was challenging the core of the legacy Detroit automakers' business of high-margin pickup trucks, and because of its location.
"The bankruptcy of Lordstown signals that the days of successful EV startups is in the rear-view mirror," said Thomas Hayes, chairman at hedge fund Great Hill Capital. "Moving forward it will be Tesla and the traditional incumbents ... that will duke it out for market share."
The automaker, named after the Ohio town where it is based, filed for Chapter 11 protection in a Delaware bankruptcy court. In the complaint, Lordstown accused Foxconn of fraudulent conduct and a series of broken promises in failing to abide by an agreement to invest up to $170 million in the electric-vehicle manufacturer.
Foxconn previously invested about $52.7 million in Lordstown as part of the agreement, and currently holds an 8.4% stake in the EV maker. Lordstown contends Foxconn is balking at purchasing additional shares of its stock as promised and misled the EV maker about collaborating on vehicle development plans.
Foxconn, formally called Hon Hai Precision Industry and best known for assembling Apple's iPhones, has said Lordstown breached the investment agreement when the automaker's stock fell below $1 per share.
The Taiwanese company said on Tuesday that it had maintained "a positive attitude in conducting constructive negotiations with Lordstown" but said the U.S. firm had been reluctant to perform the investment agreement in accordance with its terms.
It said the company was suspending negotiations with Lordstown and reserved the right to pursue legal action.
The twin filings by Lordstown set up an international business clash that could intensify scrutiny of Foxconn's EV ambitions and partnerships, not only with Lordstown but also other automakers.
The lawsuit portrays Foxconn as consistently shifting goal posts in its collaboration with Lordstown on the automaker's future vehicles, which included failing to meet funding commitments and refusing to engage with the company on initiatives Foxconn allegedly directed and purported to support.
Lordstown, a startup launched in 2018, said in a regulatory filing earlier this month that it had planned to sue Foxconn after receiving a letter from the company that led Lordstown to believe Foxconn was unlikely to make its additional expected investment.
Lordstown accused Foxconn in that regulatory filing of engaging in a "pattern of bad faith" that caused "material and irreparable harm" to the company.
The automaker's main product is the Endurance electric pickup truck, which is built at a former General Motors small-car factory in Lordstown for commercial customers such as local governments. Lordstown sold the plant to Foxconn in 2022.
Lordstown paused production of the Endurance earlier this year and since April has resumed building the trucks at a low rate after resolving quality issues with suppliers.
Should Lordstown fail to find a rescuer willing to re-start full production of the Endurance, the Ohio factory could be a draw for overseas automakers looking for a quick way to build vehicles in the United States.
Lordstown filed for bankruptcy with plans to seek a buyer. It does not have an initial offer in hand, known in bankruptcy parlance as a stalking-horse bidder, which sets a minimum price other suitors can top in an auction.
Lordstown CEO Edward Hightower told Reuters the Endurance business could prove attractive to another automaker looking for a fast entry into the EV market at a time the Biden administration's policies are attempting to move away from gasoline-powered cars.
The Lordstown factory in Northeast Ohio was formerly a GM (GM.N) small-car factory that GM decided to close in 2018. Then-U.S. President Donald Trump and other Ohio political leaders put pressure on GM CEO Mary Barra to reverse the decision, or find a buyer. GM agreed to sell the plant to a newly-formed entity called Lordstown Motors founded by the former top executive at an electric truck maker called Workhorse Group.
Like several others, including truck maker Nikola, Lordstown, which went public in 2020, has struggled to live up to the high expectations of early investors. In 2021, its chief executive and founder, Stephen Burns, resigned after the automaker acknowledged it had overstated pre-orders for its electric trucks.
Lordstown's finance chief at the time also resigned. Burns has since sold his entire stake in Lordstown, according to a June regulatory filing.
As Lordstown wrestled during 2021 and 2022 with investigations by regulators and the U.S. Justice Department, Ford Motor was launching its electric F-150 Lightning pickup truck, aiming at commercial customers.
Source: https://www.nbcnews.com/business/autos/lordstown-motors-files-bankruptcy-sues-foxconn-rcna91440
Related Posts