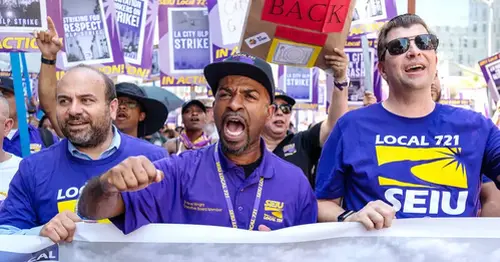 Los Angeles city employees go on strike, alleging exploitative conditions
LOS ANGELES — Thousands of Los Angeles city employees began striking early Tuesday, accusing their employer of subjecting them to exploitative working conditions and engaging in "bad faith" contract negotiations.
Service Employees International Union Local 721, which represents over 11,000 city employees, said it's protesting unfair working conditions, such as staffing shortages in city agencies, that force employees to work overtime.
The union says the strike will last 24 hours, and it has already halted or limited an array of public services: Trash collection and homeless encampment cleanups ground to a halt, some public pools shuttered, and city parking enforcement at popular event venues, such as the Hollywood Bowl, was delayed.
The union — which represents city sanitation workers, heavy-duty mechanics, traffic officers and engineers, among others — began its strike at 12:01 a.m. PT Tuesday, and workers began picketing outside Los Angeles International Airport at 4 a.m.
Los Angeles city workers walk off the job in one-day strike
Aug. 8, 2023
01:50
Mike Long, the union's communications director, said the workers would stage "a few dozen active picket lines" at other city landmarks, including the Griffith Observatory, throughout the day, as well.
Around 11 a.m., droves of striking workers, many wielding picket signs and purple cowbells, converged on the steps of City Hall, forming a chorus of dissent as they chanted in unison.
"We are the union!" a strike leader yelled.
"Fighting for justice!" the crowd roared back.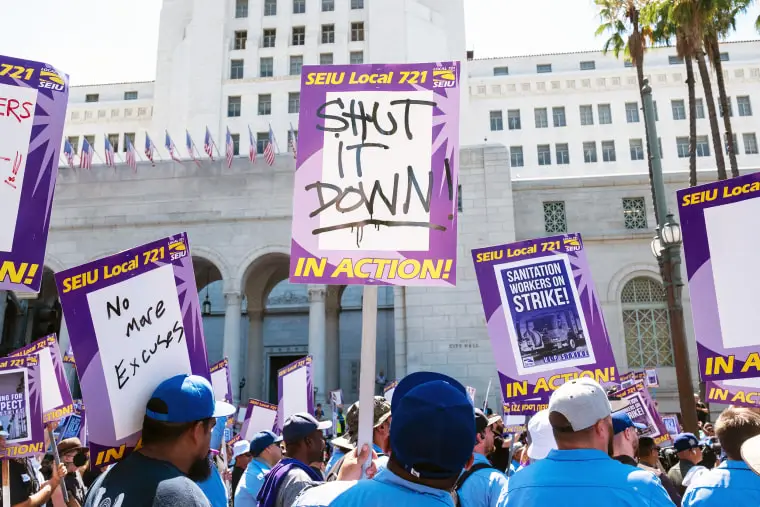 SEIU Local 721 reached an agreement with the city government last year, which remains in effect until December. In the agreement, the city pledged to consider hundreds of union proposals in separate negotiation sessions during the months following the deal, but talks collapsed when city officials moved to merge the negotiations with talks about renewing the union's contract, the group said, prompting it to file an unfair labor practice complaint.
A member of the union's executive board, Dion Cornelious, an airport bus operator at LAX, said the city's decision to combine the negotiations — which centered on position-specific provisions, such as higher pay for people who work in bilingual capacities — "totally disrespected workers." He said his team is overworked and understaffed.
"As a driver, you're doing extra days of work and extra working hours, and it puts stress on you. It's not good for the city," Cornelious said. "The more help we get, the better the city is going to be in the long run."
Mayor Karen Bass said in a statement Monday that the strike wouldn't force the city to "shut down," though she said airline passengers should set aside extra time to travel to and from LAX. Her office "is implementing a plan" that will ensure emergency services from the Los Angeles police and fire departments aren't affected by the strike, and she added that the city is prepared to advance contract negotiations with the striking workers at any time.
"Like I said over the weekend, the City will always be available to make progress with SEIU 721 and we will continue bargaining in good faith," Bass said.
Tuesday's strike comes amid a flurry of labor activity in California as it faces soaring rents and homelessness.
Thousands of California hotel workers began striking last month, demanding higher wages and other benefits, as they argue their existing salaries can't sustain them in the Los Angeles area. Hollywood actors walked off their sets last month after negotiations between the Screen Actors Guild and top studios collapsed; separately, the Writers Guild of America began striking over 100 days ago, demanding higher compensation and residuals, as well as a writers' staffing minimum on TV shows.
Source: https://www.nbcnews.com/politics/politics-news/los-angeles-city-employees-go-strike-alleging-exploitative-conditions-rcna98757
Related Posts