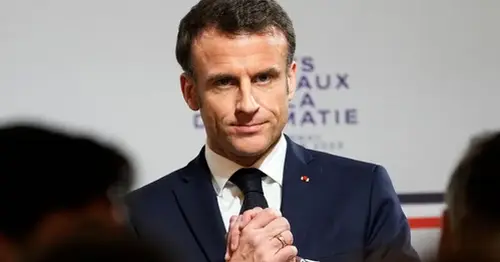 Macron's government faces no-confidence vote over contentious pension plan
PARIS — France faces a day of reckoning Monday as the Parliament holds a key vote on no-confidence motions that could potentially lead to the government's collapse, after days of fiery protests over a pension plan.
President Emmanuel Macron's long-promised plan to raise the national retirement age from 62 to 64 has sparked weeks of national strikes and demonstrations, and police have clashed with protesters in cities across the country.
Police said some 4,000 protesters gathered in the Place d'Italie in southern Paris on Saturday, many chanting "Macron, resign!" as trash bins were set alight and officers responded by firing tear gas. More than 160 people were arrested across the country, the Interior Ministry said Sunday.
Lawmakers have tabled two no-confidence motions against Prime Minister Elisabeth Borne and her government in the National Assembly, the lower chamber of the French Parliament which drives through new laws.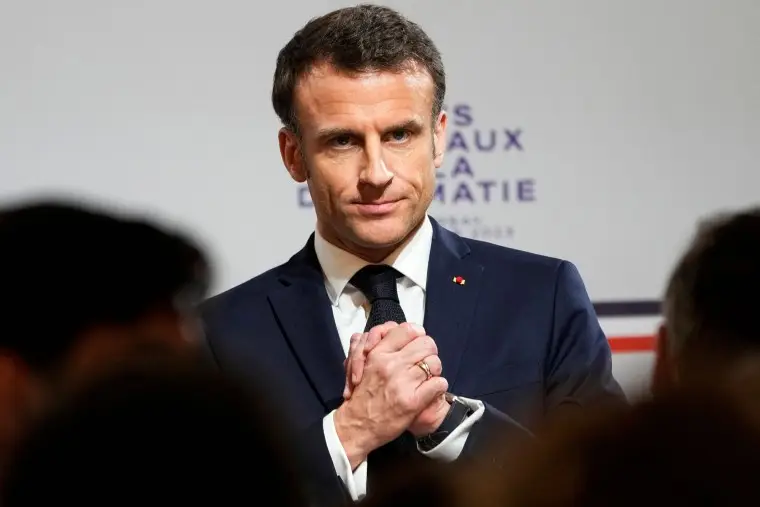 Borne, Macron's appointed majority leader, and her Cabinet of ministers would be obliged to stand down if at least 287 lawmakers back one of the motions in a vote Monday afternoon.
The president himself is safe: Macron was re-elected for a second and final term last summer, albeit on a much-reduced majority thanks to a surge in support for the far-right National Assembly, and he can appoint a new government without the need for an election unless he chooses to hold one.
But if the government falls, so does the pension bill, leaving the president and his flagship economic policy floundering.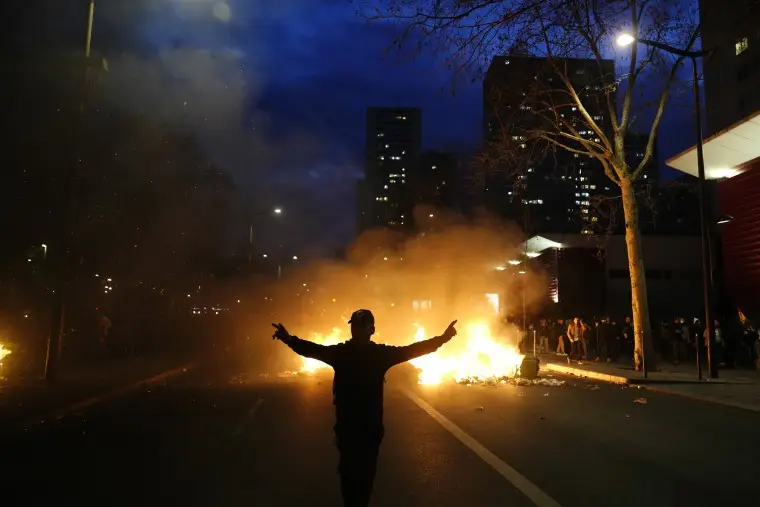 The Élysée Palace said Sunday that Macron wanted the law "to be able to go to the end of its democratic journey with respect for all," pointing out there had been more than 170 hours of debate and several concessions already made in a revised bill.
Macron's centrist alliance still has the most seats in the National Assembly and political commentators in France don't expect the bill to pass, but if more conservative lawmakers agree and back the motion, the government's position will be perilous.
Macron and Borne have already enraged critics and trade unions by forcing the pension plan through Parliament by invoking Article 49.3 of the Constitution allowing the legislation to pass without a vote from lawmakers. As a result, Parliament did not get to have a say on the law unless it tabled a no-confidence vote.
Borne, only the second female prime minister in France's history, may become its second-shortest serving PM even if she survives the vote. 
"It's actually possible that the current prime minister may lose her job even if her government survives this no-confidence motion, because she has taken the primary responsibility for introducing this legislation and spearheading it through Parliament," said Rainbow Murray, an expert on French politics at Queen Mary University of London.
Macron is adamant that pension reform is essential to keeping the system working and avoiding a crippling pension deficit, given rising life expectancy and long-term economic pressures.
"It's a risk that opposition parties have downplayed, but all objective economic analysis of the current pension scheme in France agrees that it's not sustainable to continue with retirement at the age of 62 under the current conditions, and that it risks becoming unsustainable in the near future," Murray said.
Most Western European nations have set the retirement age at 65 or 66, although some, including Italy and the Netherlands, are raising it to 67, according to the Finnish Center for Pensions.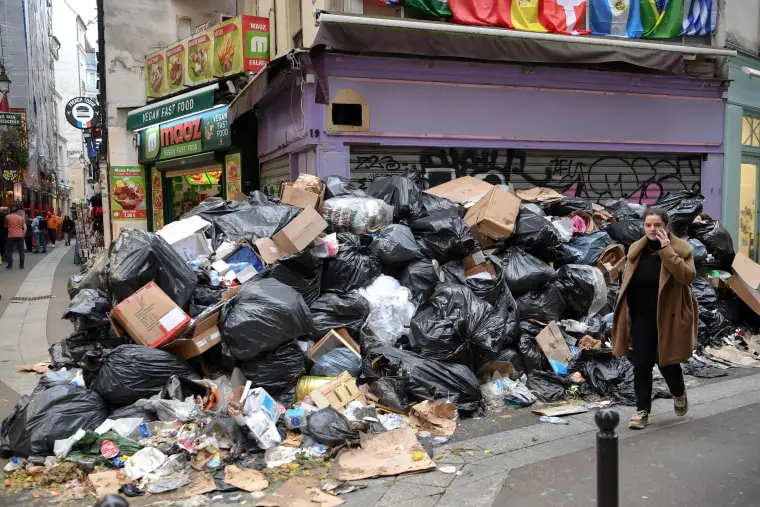 The central Place de la Concorde and nearby Champs-Elysées boulevards were the scenes of intense protests last week but gatherings there were banned over the weekend.
French television showed protests also taking place across the country, including in Marseille in the south and Nantes in the west.
A day of national strike action is planned for Thursday — there have been eight days of nationwide direct action as a result of Macron's pension plan this year so far, a mark of how controversial and unpopular the measures are. The sustained protests mirror the so-called "gilets jaunes" or yellow vest protests of 2018-19, when gas prices prompted a widespread popular revolt.
A strike by Parisian garbage collectors is now into its third week, with thousands of tons of waste now uncollected on the capital's historic streets, according to Paris City Hall.
Tourists have complained of not just the smell caused by the piles of rotting refuse, but also the increased number of rats they attract.
Source: https://www.nbcnews.com/news/world/france-pension-reform-emmanuel-macron-no-confidence-vote-borne-rcna75690
Related Posts