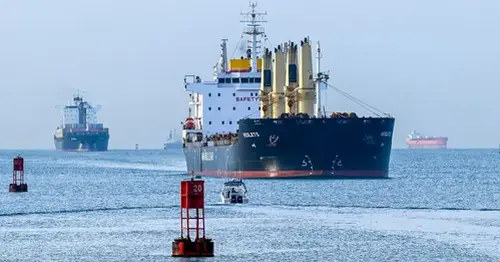 Major shipping routes are struggling with water shortages. El Niño could make it worse.
An increasing number of climate-driven extreme weather events is taking its toll on the world's major shipping routes — and El Niño could make matters worse.
El Niño — or "the little boy" in Spanish — marks the unusual warming of the surface waters in the tropical central and eastern Pacific Ocean. It is a naturally occurring climate pattern which takes place on average every two to seven years.
The effects of El Niño tend to peak during December, but its full impact typically takes time to spread across the globe. This lag is why forecasters believe 2024 could be the first year when humanity surpasses the key climate threshold of 1.5 degrees Celsius. Global average temperatures in 2022 were 1.1 degrees Celsius warmer when compared with the late 19th century.
In drought-stricken Panama, low water levels have prompted the Central American country to reduce the number of vessels that pass through the critically important Panama Canal.
The restrictions have created a logjam of ships waiting to traverse the route, which many companies favor, as it typically slashes the travel time between the Atlantic and Pacific oceans.
The Panama Canal Authority, which manages the waterway, said earlier this month that the measures were necessary because of "unprecedented challenges." It added that the severity of this year's drought had "no historical precedence."
The Panama Canal pileup comes shortly after the U.N. weather agency declared the onset of El Niño, which is likely to pave the way for a spike in global temperatures and extreme weather conditions.
Peter Sands, chief analyst at air and ocean freight rate benchmarking platform Xeneta, said maritime chokepoints exist "all over the place," but that typically only calamitous events such as the 2021 Suez Canal obstruction tend to expose the fragility of the "just-in-time" delivery model.
"I think global shipping is like the world's largest invisible sector," Sands told CNBC via videoconference. "We all rely on services and the goods carried by sea, but we hardly ever get to think about how they end up on the shelves — unless something goes wrong."
More from CNBC
Oceans absorb 90% of the heat from climate change — here's why record ocean temps are so harmful
Chinese EV maker Xpeng expects cost cuts, Volkswagen deal to narrow losses
Conditions are ripe for a global coral bleaching event: 'Florida is just the tip of the iceberg'
The Ever Given, one of the world's largest container ships, ran aground for almost a week in March 2021 while contending with strong winds. The obstruction halted all traffic on one of the world's busiest trade routes, causing massive disruption between Europe, Asia and the Middle East.
Analysts have since warned that extreme weather driven by the climate crisis could increase the frequency of Ever Given-like events, with potentially far-reaching consequences for supply chains, food security and regional economies.
Addressing the unusually long delays at the Panama Canal, Sands said that, while officials have previously imposed restrictions on ships due to low water levels, the onset of El Niño could exacerbate the problem.
"What we see right now is perhaps only the starter of the main course that is being served next year because it could be [a] more severe drought when we get to the first half of 2024," Sands said, citing the impact of El Niño.
"Right now, we do not see that filling up of the water levels that a normal year would bring around. So, it is literally a potential disaster in the making," he added.
Danish shipping giant Maersk said it had been "largely unaffected" by the Panama Canal delays, although it warned that climate risks to major shipping routes were becoming more prevalent with potentially severe impacts.
"We have actually had to deal with some of this back from the 1990s," Lars Ostergaard Nielsen, head of the Americas liner operations center at Maersk, told CNBC via videoconference.
"I think the difference is that it is perhaps becoming more prevalent, it is more perhaps severe, if you like, in terms of the impact today."
Referring to low water levels and the restrictions in place on the Panama Canal, Nielsen said the drought is prompting Maersk to load approximately 2,000 containers fewer than usual on the same vessel.
DHS secretary: Climate crisis is one of 'the most prominent threats we face'
Aug. 21, 2023
05:36
Typically, Nielsen said container ships might need to comply with a maximum depth of 50 feet on the Panama Canal. Current restrictions require ships to adhere to 44 feet of draft, forcing container ships to either weigh less or transport fewer goods.
"Six feet of water, that makes a big difference," Nielsen said.
While the Panama Canal is likely to be one of the shipping routes most exposed to climate vulnerabilities, it is not the only waterway struggling to cope with the effects of extreme weather.
Low water levels on the Rhine River, an important trade route that runs through Germany via European cities to the port of Rotterdam in the Netherlands, is also of concern.
In late July, water levels at Kaub, Germany — a measuring station west of Frankfurt and a key chokepoint for waterborne freight — dropped to their lowest on a year-to-date basis.
Falling water levels on Europe's busiest waterway have become a regular occurrence in recent years, making it more difficult for vessels to transit at capacity and increasing shipping costs.
"On the Rhine … it's basically more daily tactical decisions simply because it's short trips [and] it's relatively easy to find alternatives so you can actually deal with that quite late in your processes," Nielsen said.
"Whereas [with the] Panama Canal, you really have to plan it quite early because by the time you have a crossed the Pacific etc., you don't really have any other options once you arrive," he added.
Global insurance broker Marsh warned in a report published late last year that greater focus should be given to understanding the vulnerabilities of maritime chokepoints, given the increasing incidence of climate-driven disruptive weather events.
In the case of the Suez Canal, Marsh cited coastal inundation — where the sea level rises high enough to flood infrastructure — and the increasing chance of extreme heat as physical risks that will only be aggravated by the climate emergency.
Source: https://www.nbcnews.com/science/environment/major-shipping-routes-are-struggling-water-shortages-el-nino-make-wors-rcna100983
Related Posts