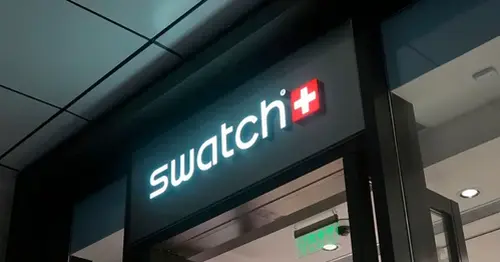 Malaysia raids Swatch stores and seizes rainbow pride watches
KUALA LUMPUR, Malaysia — Swiss watchmaker Swatch said Tuesday that Malaysian authorities raided its stores and confiscated 164 watches from its Pride Collection.
It said Ministry of Home Affairs officials raided its outlets in various malls across Malaysia on May 13 and 14 and seized the watches because they "bore LGBT connotations."
The watches come in a choice of six colors, matching those on the gay pride flag, and have two rainbow loops on their straps.
"We strongly contest that our collection of watches using rainbow colors and having a message of peace and love could be harmful for whomever," Swatch Group CEO Nick Hayek Jr. said in a statement.
"On the contrary, Swatch always promotes a positive message of joy in life. This is nothing political. We wonder how the Regulatory and Enforcement Division of the Home Ministry will confiscate the many beautiful natural rainbows that are showing up a thousand times a year in the sky of Malaysia," he said.
Predominantly Muslim Malaysia criminalizes same-sex relationships, with punishments ranging from caning under Islamic laws to 20 years in prison for sodomy under colonial-era civil laws. The opposition Pan-Malaysian Islamic Party recently criticized a scheduled concert in November by British band Coldplay because of its support of the LGBT movement.
Home Minister Saifuddin Nasution told the AP that he is waiting for a full report on the matter before issuing a statement.
Swatch said it has resumed selling the Pride Collection watches and that its legal department is looking into the seizure.
Gay rights group Jejaka slammed the confiscation of the watches, saying it showed "a deeply unsettling level of intolerance."
Source: https://www.nbcnews.com/nbc-out/out-news/malaysia-raids-swatch-stores-seizes-rainbow-pride-watches-rcna86195
Related Posts