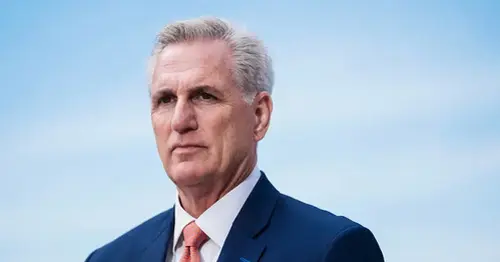 McCarthy faces his first big test as speaker: Defusing a debt ceiling time bomb
WASHINGTON — For Kevin McCarthy, nothing comes easy.
In January, he battled his GOP detractors for 15 rounds of voting during a grueling, televised four-day ordeal before he won the House speaker's gavel. This week, he faces his first major test as speaker: Can he pacify grumbling moderates and agitated conservatives to unite nearly all 222 Republicans behind his plan to hike the debt ceiling and cut spending?
McCarthy, R-Calif., and his allies exude confidence that they can corral the 218 votes they need to pass the Limit, Save, Grow Act, which they believe will put pressure on President Joe Biden to negotiate policy concessions to pay the country's bills as a potential default on U.S. debt looms in as few as two months.
McCarthy unveils Republican plan to raise debt ceiling
April 19, 2023
05:27
But five Republican no votes would derail the McCarthy debt bill, given that Democrats have expressed strong, unified opposition to it. And several of the 20 hard-right conservatives, who initially blocked McCarthy from winning the speakership three months ago have threatened to vote no this week.
Former Freedom Caucus Chairman Andy Biggs, R-Ariz., one of the five ringleaders of the effort to deny McCarthy the speakership, said he told the GOP whip team he's "leaning no" on the bill over its main provision, lifting the debt ceiling by $1.5 trillion.
Rep. Matt Gaetz, R-Fla., has demanded "more rigor" on work requirements for recipients of Medicaid and other safety net programs before he'll get on board. Specifically, he wants recipients to work 30 hours per week, up from 20 hours in the McCarthy plan.
Rep. Victoria Spartz, R-Ind., who went back and forth on supporting McCarthy for speaker, said she is also undecided, arguing that if her party wants to target the poor, it should also "challenge the rich monopolists."
Failure to pass a law with Democrats could spark a global economic meltdown. But making the necessary compromises could put McCarthy's job in the crosshairs — again — with the far-right, as any one member can force a House vote to overthrow the speaker.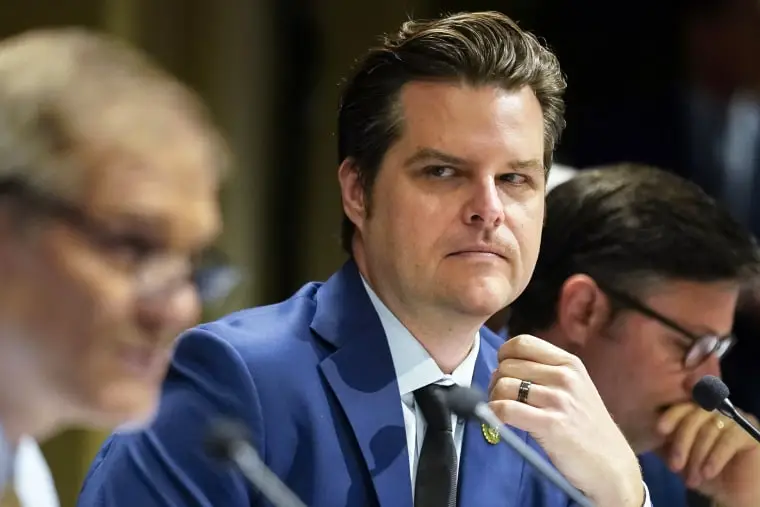 The bill will be on the floor as early as Wednesday.
"I look at this vote more as a test of member confidence in him," said Brendan Buck, a former adviser to former Republican Speaker Paul Ryan. "Any final deal will look nothing like this bill, and so it speaks more to how strong his standing will be when they ultimately need to swallow very modest wins."
Buck predicted that the White House would find it "untenable" not to negotiate on the debt limit, whether or not McCarthy's bill passes. "Now comes the hard part, but the fact he's not facing a huge revolt already is a good sign for the survivability of the eventual deal."
Meanwhile, centrist or swing-district Republicans, like Reps. Tony Gonzales of Texas and Nancy Mace of South Carolina, also are withholding support. Mace said she is leaning no because the bill doesn't balance the budget and could harm green energy businesses in her state.
The American Action Network, a McCarthy-aligned group, commissioned a poll in 87 battleground districts that Biden won narrowly and found support for "cutting government spending" alongside a debt limit increase. The survey, conducted by American Viewpoint, was circulated around Washington last week, aiming to calm the fears of politically endangered Republicans.
And the Democratic Congressional Campaign Committee has targeted GOP members over the debt limit bill's repeal of clean energy grants and funding. The committee cited a report showing that the district of far-right Rep. Lauren Boebert, R-Colo., who barely won re-election in 2022, has benefited from wind energy assistance in the Democrats' law. Committee spokesman Tommy Garcia accused Boebert of "reckless behavior" and claimed the bill would "gut hundreds of jobs in Colorado."
Some Republicans sympathize with McCarthy's challenge.
"I think everybody knows he's doing the best he can given the cards he's been dealt," said Rep. Chuck Fleischmann, R-Tenn., a McCarthy ally and a senior appropriator, citing the razor-thin GOP majority and the fact that Democrats control the White House and Senate.
To secure the gavel, McCarthy had to agree to a Freedom Caucus demand that deep spending cuts be tied to any hike in the debt ceiling. He also agreed to another crucial demand: that he reinstate a House rule in which a single lawmaker can force a vote to oust the sitting speaker at any time.
At least for now, no one is publicly saying that McCarthy's speakership is at risk if he fails to pass his debt package. But Rep. Steve Womack, R-Ark., a former Budget Committee chair who backs the GOP package, paused for several seconds and stumbled over his answer when asked on CBS News if McCarthy's speakership was "safe" if he fails to deliver any spending cuts in his debt talks with Biden.
"Uh, you know, it's a hard question to answer," Womack said, "because we have the ability to do a motion to vacate with one member; we have a four-seat majority."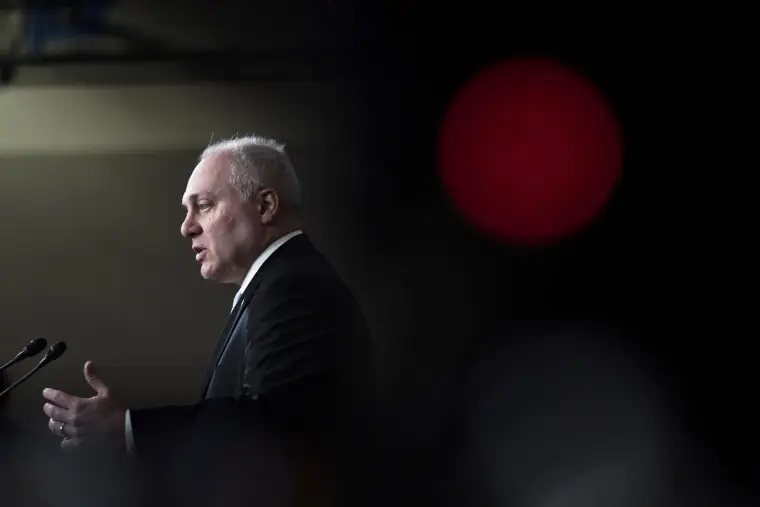 The debt debate comes against the backdrop of some internal GOP drama that recently spilled out into the open. The New York Times reported that McCarthy had privately criticized current Budget Chairman Jodey Arrington, R-Texas, and his top deputy, Majority Leader Steve Scalise, R-La., who has long been seen as a potential rival. McCarthy's comments came after Arrington quietly put out feelers during the speaker fight to see if colleagues would back Scalise for the job instead, the Times reported.
"It's not entirely clear" those internal issues have been resolved, said Rep. Dan Bishop, R-N.C., one of the 20 who had voted against McCarthy. "People say there's goldfish memory — 30 seconds and everything's forgotten — but I'm not sure that's always true."
Still, Bishop and many of the other usual conservative rabble-rousers have signaled support for the debt package. And they say McCarthy learned valuable lessons from the marathon speaker battle that is helping him navigate the current debt-ceiling conundrum.
Instead of meeting and negotiating with individual factions, such as the Freedom Caucus, McCarthy and his leadership team have adopted a more inclusive approach, convening meetings with a diverse cross-section of the House GOP Conference that includes representatives from the so-called Five Families.
The idea is that House Republicans, with their fragile majority, are all in it together.    
"He's worked his butt off. He's listened very carefully. He's maneuvered well. It's a good result," said Bishop, who has attended some of the meetings. The discussions, he said, "have continued, they've been effective. … And so I think it's been a model picture of how we should operate."
Biden and GOP in showdown over national debt ceiling
April 19, 2023
01:55
Rep. Kevin Hern, R-Okla., chair of the conservative Republican Study Committee and a McCarthy ally, said he has also adopted McCarthy's approach of over-communicating with his members, the largest faction within the House GOP, on the debt bill. At a meeting last week, he said he fielded questions from study committee members until midnight.
"I've answered every question from anybody inside the Republican Study Committee. I sent out our letter last week to 175 members and have gotten nothing but positive feedback. So I think we're in a good spot," Hern said in an interview.
"Leadership's done a very good job of listening to all voices."
The McCarthy legislation would lift the debt ceiling by $1.5 trillion through March 31, 2024. It'd cut federal discretionary spending to fiscal 2022 levels and impose a 1% growth cap; it would recapture unspent Covid relief funds, nix Biden's student debt cancellation plan, rescind IRS enforcement funding and add new work requirements for able-bodied adult recipients of federal programs like Medicaid.
"I want the anticipation. I want you to see as the clock goes up. I want you to write stories like I'm teetering, and the whole world hangs in the balance," McCarthy said at a news conference, mocking reporters who covered his dramatic speaker vote. "And then I want you to write a story after it passes: Would the president sit down and negotiate?"
But even if McCarthy manages to pass his bill through the House, his problems grow from there.
Removing some provisions to win the support of the Democratic-led Senate could alienate ultraconservative members who are reluctantly supporting the current version.
Rep. Bob Good, R-Va., said he intends to support the bill but insisted that it be the version that becomes law, a fruitless goal as the Democratic-led Senate and Biden have rejected the bill and torched it as a dangerous exercise in hostage-taking.
Source: https://www.nbcnews.com/politics/congress/mccarthy-faces-first-big-test-speaker-defusing-debt-ceiling-time-bomb-rcna80691
Related Posts