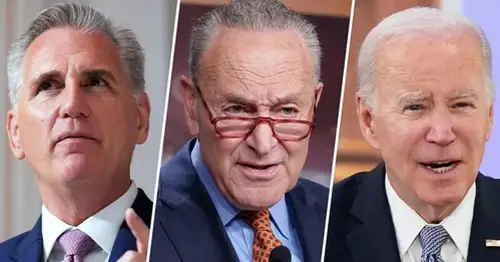 McCarthy passes his debt limit bill, but the path to averting default is deeply uncertain
WASHINGTON — Speaker Kevin McCarthy passed his debt ceiling bill through the House on Wednesday by a wafer-thin vote of 217 to 215, with Democrats unifying to vote against it.
But passing the bill may have deepened the impasse and made the path to averting a disastrous U.S. default even murkier.
The Democratic-controlled Senate has promised to throw McCarthy's bill in the trash, vowing not to negotiate over paying the country's bills. President Joe Biden has threatened to veto it. But House Republicans will now be less inclined to grant a no-strings-attached debt limit hike after they secured the votes to make an opening bid that would cut spending and roll back key parts of Biden's agenda.
"Now he should sit down and negotiate," McCarthy, R-Calif., said Wednesday, putting the onus on Biden. "We are the only party to take fiscal action ... that would lift the debt limit so we wouldn't have economic damage."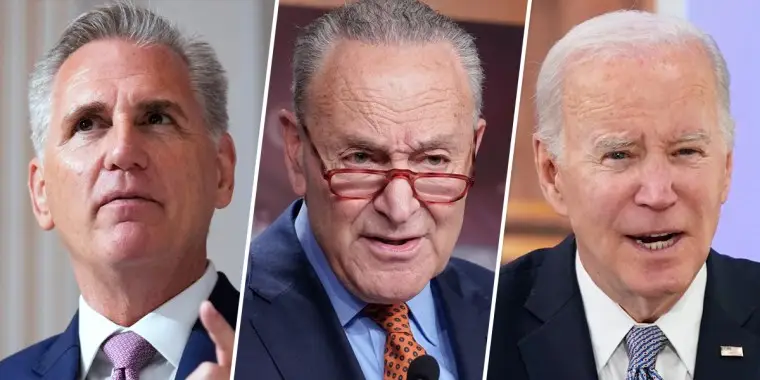 But the White House insists there's no deal to be made other than a simple debt limit bill without policy strings attached. Biden's advisers see more risk in haggling over whether to pay the country's bills than in pressuring the GOP not to use the threat of default as a bargaining chip.
"Congressional Republicans must act immediately and without conditions to avoid default and ensure that the full faith and credit of the United States is not put at risk. That is their job," White House press secretary Karine Jean-Pierre said.
She reiterated that "this bill has no chance of becoming law," blasting its spending caps, which she said would slash funding for "health care, education, Meals on Wheels and public safety."
The heightened finger-pointing and persisting stalemate sparked waves of anxiety across Capitol Hill about how to avert economic calamity, which the Treasury Department says could come as early as June 5 if Congress doesn't act in time.
A Democratic House aide's concern that the U.S. would default was between 6 and 7 on a scale of 10. The aide said the "best way out" of the jam is to pair a debt limit hike with a budget agreement — Democrats are open to negotiating spending cuts — which would enable both parties to claim victories.
But that may require a longer time frame to negotiate. If the U.S. does hit the debt ceiling in mid-June, that's "very bad," the aide said on condition of anonymity to speak candidly. "Hard to see how we avoid a default then."
Senate Majority Leader Chuck Schumer, D-N.Y., called McCarthy's bill "the Default On America Act — because that's exactly what it is, DOA, dead on arrival."
"Our plan has always been the same: to avoid default, to pass a clean debt ceiling — no brinksmanship, no hostage-taking," Schumer said. "Once that is done, there'll be plenty of time to discuss as usual, in the budget process, where there should be cuts, where there should be tax increases."
McCarthy's bill would extend the borrowing limit by $1.5 trillion or through March 31 — whichever comes first — with trillions of dollars in spending cuts over a decade, mostly unspecified, some by killing clean energy tax credits in the Inflation Reduction Act.
The House bill was crafted to meet a series of demands from the ultraconservative Freedom Caucus, and it was altered in the final stretch to address regional concerns from some Republicans. Republicans in swing districts, after initially hesitating, ultimately fell in line.
And yet the bill barely passed through the narrow majority. If McCarthy dials it back to make it palatable to Biden and Senate Democrats, he risks angering right-wing House Republicans and endangering his hold on the speaker's gavel.
Rep. Ralph Norman of South Carolina, one of the 20 Republicans who initially opposed McCarthy for speaker, said the spending cuts package was "the bare minimum" he'd accept in exchange for raising the borrowing limit.
Senate Minority Leader Mitch McConnell, R-Ky., praised McCarthy's work in unifying Republicans but warned that the legislation won't be the final product.
"The agreement needs to be reached between the speaker and the president," McConnell said. "Until he and the speaker of the House reach an agreement, we'll be at a standoff."
A Senate Republican aide said Democrats will have to buckle.
"Biden and Schumer's position doesn't work. They're throwing a temper tantrum. We heard them — they want clean [debt limit extensions]. That's not what's going to happen," said the aide, who wasn't authorized to speak on the record. "Stop whining and negotiate for the sake of the American people."
Sen. Mike Crapo, R-Idaho, the ranking member of the powerful Finance Committee, said he worries about default if Biden continues to hold firm on his debt ceiling position.
Source: https://www.nbcnews.com/politics/congress/mccarthy-passes-debt-limit-bill-path-averting-default-deeply-uncertain-rcna81652
Related Posts