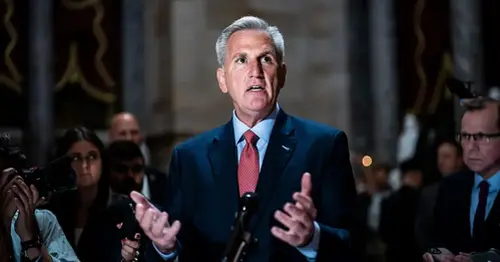 McCarthy proves his naysayers wrong
WASHINGTON — Critics doubted Kevin McCarthy could win the speaker's gavel, but he did after a historic 15 rounds of voting.
They predicted McCarthy, R-Calif., wouldn't be able to cobble together enough votes to pass his GOP plan to lift the debt ceiling, but he pushed it through without a single vote to spare.
And some believed the speaker's demands for spending cuts in his negotiations with President Joe Biden would throw the nation and the U.S. economy into a catastrophic default. 
Instead, the two men struck a deal. The bill still needs to pass through the Democratic-controlled Senate to become law, but McCarthy shepherded it through what was widely viewed as its toughest hurdle Wednesday night: passing the House.
"I've been thinking about this day before my vote for speaker, because I knew the debt ceiling was coming," McCarthy said Wednesday night. "I wanted to make history. I wanted to do something no other Congress has done — that we would literally turn the ship, that for the first time, in quite some time, we'd spend less than we spent the year before."
In his first five months in power, McCarthy has defied the naysayers time and again. Asked whether his critics had underestimated him, McCarthy appeared to relish the question and poked fun at the media who have speculated he could fail to stave off a debt default or be forced out of the speaker's office by his foes. 
"Every time I walk out [of my office], you tell me … 'Are you going to get the bill? Are you going to be thrown out?'" McCarthy said Wednesday. "I kind of like it — you guys are worried every day."
McCarthy speaks after House passes debt ceiling bill
June 1, 2023
02:44
Allies who have served with him in the House for years said McCarthy has a knack for knowing where his 222-member GOP Conference stands on any given issue — a skill he has developed while holding the roles of chief deputy whip, GOP whip, majority and minority leader and, finally, speaker.
"He listens to everyone in the conference. He brings people together. He figures out where the sweet spot is, where we can all be as a team," Rep. Richard Hudson of North Carolina, the GOP campaign chairman, said in an interview.
"He's held a lot of different leadership positions, and he's gotten wiser and smarter as he's gone along, and he's watched other leaders."
Another ally, Rep. August Pfluger, R-Texas, said McCarthy has "demonstrated resolve" — during both the prolonged floor fight for speaker and his monthslong standoff with Biden over the debt ceiling.
"The president said, 'I will not negotiate on the debt level.' He did. The president said, 'You will not get this.' We got it. There's many examples: work requirements, energy permitting reform, spending cuts," Pfluger said. "I think he's demonstrated resolve. I think he's negotiated well. This is a win. It's a solid, solid first down. The work is just beginning."
Across the Capitol, some GOP senators also cheered. Sen. Kevin Cramer, R-N.D., who served six years in the House alongside McCarthy, said he appreciated McCarthy's negotiating team securing a pay-as-you-go, or "paygo," rule that would require new federal agencies to offset new policies that boost spending (though it could be waived) and a provision to cap spending through stopgap measures if the annual dozen government spending bills aren't passed by the end of the year.
"For anybody that's critical of Kevin … I think they're wrong," Cramer said. "I think he got everything he could get. It was a remarkable accomplishment."
Even with a huge legislative win in hand, McCarthy's not entirely in the clear. Seventy-one Republicans voted against the debt ceiling deal, a little less than a third of McCarthy's caucus, with many saying its spending cuts were too modest and the most conservative members calling it a victory for Biden.
And while one political enemy, Rep. Matt Gaetz, R-Fla., has said a push to oust McCarthy is "not" very likely, some members of the hard-right House Freedom Caucus openly support forcing a vote of no confidence on the floor, known as a motion to vacate, which would remove him as speaker with a simple majority vote.
"The discussion about the motion to vacate is going to happen in the next week or two. ... Stay tuned," Rep. Ken Buck, R-Colo., told reporters after the vote.
If Democrats throw their support behind McCarthy in a vote of no confidence, Buck said it would be like "a date with a eunuch."
Asked to elaborate, he said, "He does not have much power when he relies on Democrats to keep him speaker."
Other Freedom Caucus leaders offered more veiled attacks on McCarthy without revealing their next move.
"His new coalition is with the Democrats," former Freedom Caucus Chairman Andy Biggs, R-Ariz., one of the so-called Never Kevins, said Wednesday.
But a critical ally and a key GOP debt negotiator, Financial Services Committee Chairman Patrick McHenry, R-N.C., argued that McCarthy is in a stronger position than before and that critics continue to doubt him at their own risk.
"Underestimated for damn sure. Kevin McCarthy has always been underestimated. Always been underestimated. The week of the speaker's vote. The whole negotiation, the lack of negotiation. There's been multiple times this calendar year alone that he's been underestimated," McHenry told reporters.
The successful vote on the debt deal proves "why that is the wrong proposition here in Washington," McHenry said at a news briefing with the other GOP negotiator, Rep. Garret Graves of Louisiana.
Source: https://www.nbcnews.com/politics/congress/mccarthy-proves-naysayers-wrong-rcna87087
Related Posts