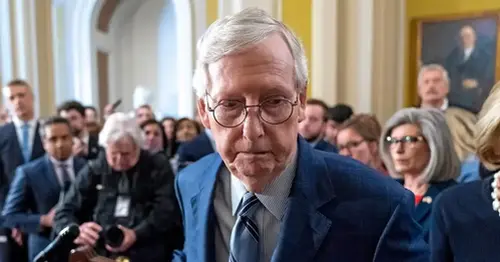 McConnell treads warily around debt limit fight as fears of default catastrophe grow
WASHINGTON — The deadline to avert a catastrophic debt default is nearing, but Senate Minority Leader Mitch McConnell is refusing to get involved in finding a solution, instead putting the onus on House Speaker Kevin McCarthy and President Joe Biden to resolve it.
A veteran senator with a knack for finding a way out of congressional logjams and who has a friendly relationship with Biden, McConnell, R-Ky., is a closely watched figure in a showdown that has grown more intense this week. He said Tuesday he'll attend the May 9 meeting with Biden, McCarthy, R-Calif., and Senate Majority Leader Chuck Schumer, D-N.Y. — and tell the president and speaker to work it out.
"The president and the speaker need to reach an agreement to get us past this impasse. That's my message going down to the White House meeting," McConnell told reporters. "It'll be my message in the White House meeting."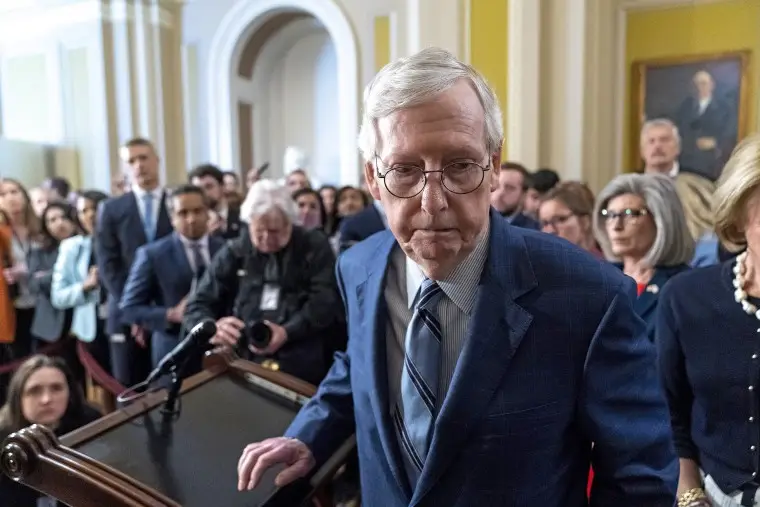 McConnell is hesitating to get involved as he faces conflicting pressures about a way forward, according to Republican senators and sources familiar with his thinking. On one hand, he feels duty-bound not to undercut McCarthy — and it doesn't help that he's already distrusted by much of the GOP base. On the other hand, he has a history of brokering debt limit deals and has been outspoken about the need to avoid default.
Many GOP senators and conservative advocates are demanding that McConnell maintain party unity, hoping the pressure will allow them to extract concessions from Biden to lift the debt ceiling.
Sen. Roger Marshall, R-Kan., said McConnell's task in the debt limit fight is simple: "Keep Republicans together" with McCarthy.
"I think his job is to keep us together," Marshall said. "One of the biggest concerns I hear from people back home is: Why can't Republicans stick together?"
But politically, McConnell is sensitive to the fact that many swing voters perceive the GOP as a party of chaos. He told NBC News in December that a default "just can't happen" and must always be prevented, as he has worked to do in the past. Even still, he acknowledged at the time, "We always go through a lot of angst over that, particularly on the Republican side."
Biden invites congressional leaders to White House for debt ceiling talks
May 2, 2023
04:13
As he tries to channel the preferences of Republican members, allies are working to debunk conspiracy theories that McConnell is pursuing any side deals.
"The leader is trying to disabuse people of the notion that there's some sort of secret McConnell plan," said a GOP leadership aide. "He's working to keep the conference united behind McCarthy's plan and the speaker's efforts to get Biden to the table."
The aide, who spoke candidly on condition of anonymity, said that the idea of McConnell swooping in to broker a deal is all speculation and that his only goal at this time is to support McCarthy and pressure Biden to cut a deal. The aide emphasized that McConnell is in the minority and his powers are limited.
From a policy standpoint, the House GOP bill that McConnell is boosting would roll back the government funding levels he established in a deal just a few months ago. That agreement raised spending — the GOP secured more military funding and Democrats won a boost in nondefense money. It would make McConnell an awkward leader in the charge for spending cuts, which conservatives are insisting on in a debt limit bill.
"He has been in the middle of these things in the past — but also, in a very different set of circumstances than what you're looking at right now," Senate Minority Whip John Thune, R-S.D., a member of McConnell's leadership team, said Tuesday.
McConnell is also conscious of the fact that he has become a lightning rod with segments of the Republican base amid his clashes with former President Donald Trump. If he cuts a deal with Biden — or is perceived to be undercutting McCarthy in the standoff — that could provoke a GOP backlash.
"He plays a secondary role," Sen. Thom Tillis, R-N.C., said of McConnell. "The Republicans have control of the House. They put forth an offer. And I think he is rightfully looking to McCarthy and Biden — and I think to a certain extent, Schumer — to sort it out."
But if the standoff continues, some well-connected figures say the pressure for him to get involved will only grow.
"I see no other path than for McConnell to again be the lead negotiator. McConnell has always been firmly in the anti-default camp," said a Washington lobbyist who used to work as a policy aide on Capitol Hill. "The White House would so much rather negotiate with McConnell. But hard to imagine him undercutting McCarthy like that."
The lobbyist said McConnell's predicament is that many Republicans "think he got taken to the cleaners" in the 2021 debt limit battle and on the Democrats-only Inflation Reduction Act. "So his team is being very, very careful."
Asked if McConnell might get involved if the deadline is imminent and there's still no deal, Thune said: "We'll play the hand that's dealt if and when the time comes."
As for a white knight role brokering a deal between the two sides, "we're nowhere close to that," said a GOP source familiar with the dynamic. "McConnell's position right now is to support McCarthy."
Democrats say they want to see McConnell get involved, given his history crafting bipartisan deals and creative procedural arrangements to avert default.
"He has in the past. I hope he will again," said Sen. Jeanne Shaheen, D-N.H.
McConnell's past insistence that the U.S. must pay its bills has given some Democrats hope that he'll be the adult in the room.
Source: https://www.nbcnews.com/politics/congress/mcconnell-treads-warily-debt-limit-fight-fears-default-catastrophe-gro-rcna82424
Related Posts