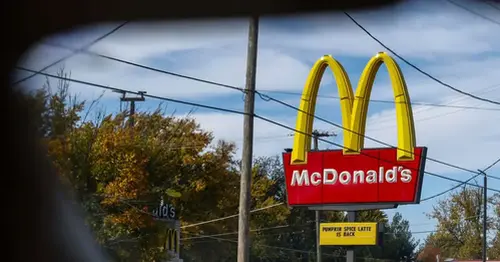 McDonald's reportedly temporarily shuts its U.S. corporate offices ahead of layoffs
McDonald's Corp is temporarily closing its U.S. offices this week as it prepares to inform corporate employees about its layoffs as part of a broader company restructuring, the Wall Street Journal reported Sunday.
In an internal email last week to U.S. employees and some international staff, McDonald's asked them to work from home from Monday through Wednesday so it can deliver staffing decisions virtually, the report said. It is unclear how many employees will be laid off.
"During the week of April 3, we will communicate key decisions related to roles and staffing levels across the organization," the Chicago-based company said in the message viewed by the Journal.
McDonald's also asked employees to cancel all in-person meetings with vendors and other outside parties at its headquarters, the report added.
McDonald's did not immediately respond to Reuters' request for a comment.
The fast-food chain said in January that it would review corporate staffing levels as part of an updated business strategy, which could lead to layoffs in some areas and expansion in others.
Source: https://www.nbcnews.com/business/business-news/mcdonalds-reportedly-temporarily-shuts-us-corporate-offices-ahead-layo-rcna77851
Related Posts