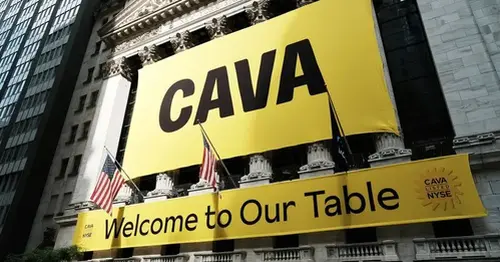 Mediterranean restaurant chain Cava's stock soars as much as 117% in market debut
Shares of Mediterranean restaurant chain Cava soared as much as 117% in its market debut Thursday.
The company's stock closed at $43.78 per share, up from its opening trade of $42 per share. Its closing price gives it a market value of $4.88 billion and makes it the top-performing IPO this year for companies valued above $500 million.
Cava Group priced its IPO at $22 per share on Wednesday, above the expected range of $19 to $20. The company sold 14.4 million shares, raising nearly $318 million and initially valuing the restaurant chain at roughly $2.45 billion.
The stock trades on the New York Stock Exchange under the ticker symbol "CAVA."
Although it was founded in 2006, Cava opened its first fast-casual location in 2011, modeling its build-your-own Mediterranean meals after the formula made popular by Chipotle Mexican Grill. The chain built a customer base by introducing some eaters to ingredients like harissa and tahini and positioning itself as a healthy and convenient option. The company also sells its dips, spreads and salad dressings in grocery stores.
Cava acquired Zoes Kitchen in 2018, taking the rival Mediterranean chain private for $300 million. It's spent the last five years converting Zoes Kitchen locations into Cava restaurants, contributing to its footprint of 263 locations as of April 16.
Last year, Cava's net sales climbed to $564.1 million, 12.8% higher than the year earlier.
"You're seeing the inflection point in the business, and all of that robust structure we've invested in, the restaurant growth, starting to take hold and drive tailwinds to the business," CEO Brett Schulman said on CNBC's "Squawk on the Street."
But its losses also widened from $37.4 million in 2021 to $59 million in 2022. Still, industry experts say that the chain has demonstrated a clear path to profitability, making it more attractive for investors looking for growth stocks. In the first quarter, it reported a net loss of $2.1 million, narrower than its $20 million net loss in the year-ago period.
The restaurant company plans to use the proceeds from its IPO for new location openings and general corporate purposes.
More from CNBC
Microsoft's stock hits record after executives predict $10 billion in annual AI revenue
Disney finance chief Christine McCarthy to step down
Disney looks to get out of animation rut with Pixar's 'Elemental'
Cava adds to the growing number of publicly traded fast-casual chains. Sector leader Chipotle made its public market debut back in 2006 and has seen its market value grow to $56.9 billion.
More recently, salad chain Sweetgreen went public in November 2021. It now has a market value of $1.2 billion. Investors have dinged the stock for the company's lack of profit, although shares have climbed more than 25% this year.
Source: https://www.nbcnews.com/business/business-news/mediterranean-restaurant-chain-cava-stock-soars-much-117-market-debut-rcna89609
Related Posts