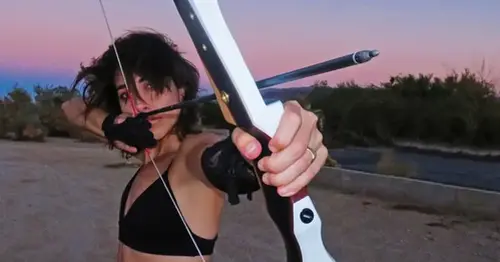 Meet the queer female CEO who's changing the face of archery
What comes to mind when you think about archery? For most people, the age-old sport conjures up associations with game hunting, arrow-pierced animals and lots of camo. But one New York City-based archer, entrepreneur and TikTok star is trying to change that.
Wild Captives founder and CEO Kendall Tichner is bringing a distinctly new approach to the male-dominated world of archery at her demo space in Brooklyn and on social media with content that is fun, friendly and inclusive. On TikTok, where she has nearly 600,000 followers, some of her most popular videos show her extinguishing a flame with a well-aimed arrow or hitting flying targets, like a balloon that explodes into a burst of feathers in the sky. Her trick shots have racked up tens of millions of views.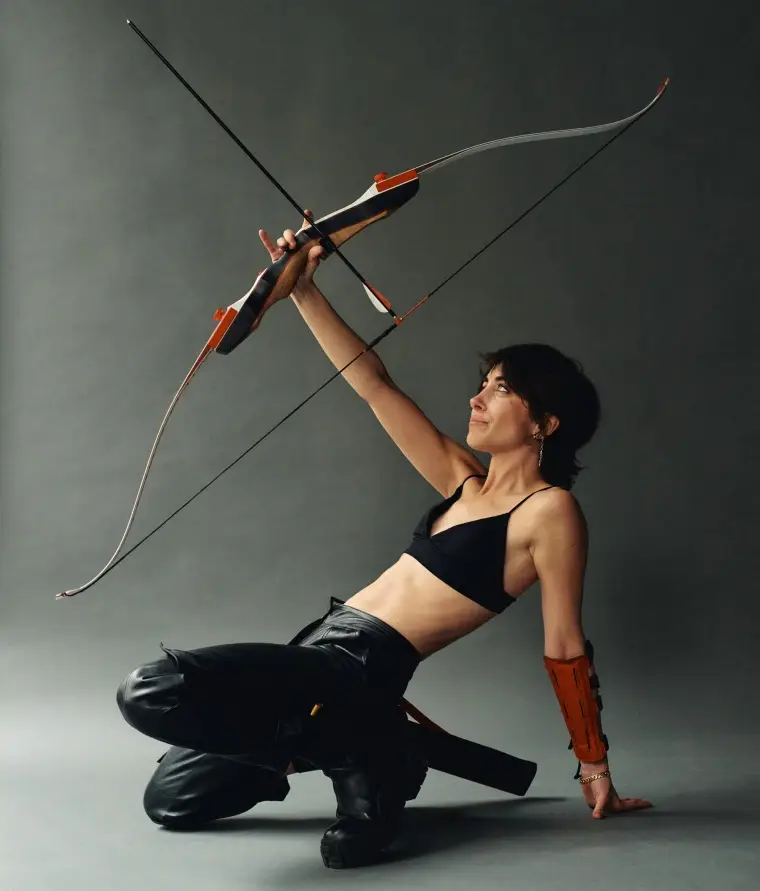 Although she says people tend to assume she's younger because of her status as a TikToker, Tichner is in her 30s. And despite being born and raised just outside New York City, she's an avid plant forager and birder with a lifelong interest in urban agriculture and ecology. Tichner started her "Wild Captives" Instagram account a decade ago as a way to document her outdoor adventures and build community while working a 9-to-5. 
"My life is about scouting," she said, stringing her bow with a flourish on a recent spring afternoon. "I love learning how to use the resources around me and connect with people in urban environments." She released her arrow, easily hitting the bull's-eye.
During the first bleak year of the pandemic, when other folks were baking banana bread or futzing with sourdough starter, Tichner picked up a bow for the first time since summer camp. She made a video of herself playing around at an archery range and posted it on TikTok. It got a million views overnight, then 10 million. That bow, which she'd bought on Amazon, became a bestseller. And just like that, she was an archery influencer.
"I ordered four wrong bows," she said of her initial purchases. "Wrong size, wrong shape. It was confusing as hell, and I was bruised. Every piece of equipment that I got came from trial and error." 
People online were asking her for recommendations, and companies reached out about sponsorships and brand deals. But when she investigated the options, nothing spoke to her.
In the archery-as-hobby space, she said, women and the queer community "were just being left out of the whole marketing narrative. If you saw a woman, it was the wife of the shooter, and even she was, like, next to a dead bear." 
Tichner said she couldn't find anything she felt comfortable recommending. 
"There needed to be an archery company for little freaks and fairies and people who just want to feel empowered and magical," she said.
As Tichner's community of followers grew, they wanted more — and not just videos of her, but a way to get involved themselves. She decided to create her own archery kit, with everything a beginner would need to get started in their own backyard — no camo in sight. 
"We have the opposite problem of most businesses," said Tichner. "I have an insatiable audience." 
She quit her job to focus on her company in 2022 and now has a team of five part-time employees. "I needed to risk it all and follow my dream," she said. So far, it's proving to be a good bet: After boot-strapping her way to her first $20,000 month, she said, she's now looking to bring on full-time staff.
In the meantime, Tichner has found that her latest hobby is empowering in ways she wasn't expecting.
"I don't want to generalize," Tichner said, "but in terms of queerness, it made me in touch with my body and femininity in a way that felt really powerful, even though I'm a tomboy."
That experience led her to discover a whole side of the sport she'd known nothing about. 
"I think a lot of our history has been erased," she said of female archers. "There's a legend that Amazonian warriors cut off one boob because when you pull back you don't want interference. I'm lucky that I don't have any breasts, but a lot of women who are archers will wear a pad that binds them. So it's actually such a cool sport for trans men, while also having this deep history of female empowerment."
Of course, there are some haters. One could draw parallels between the men who target her online and the very types of people who made archery seem so off-putting to her in the first place. 
"Part of the reason a lot of my videos have gone viral is because so many men are challenging me," she said. "They're like, 'Your form is wrong. You're not actually good at archery.' But that's not the point. I'm not trying to compete in the Olympics."
The comments on some of Tichner's videos are a mess of toxic masculinity and mansplaining. One commenter recently reassured another not to worry about women subverting traditional gender roles because "they'll end up alone anyway and die off. Evolution." 
And if they're not criticizing her form, they're questioning her sex appeal. But Tichner said she doesn't let it get to her. 
"When a video goes viral, the influx of messages is so insane, but people really aren't that clever," she said of her trolls. "I'm desensitized to it, because nobody's saying new things. It's all the same. Like, I don't have boobs. Maybe I'm not that hot to you. I don't care."
Tichner also pointed out that there's an element of self-defense baked into the sport that's turned her into a star. 
"When I go to the range and I'm alone, I'll have a moment of being like, 'I'm scared. I'm in the woods, and there's a bunch of huge men around me with weapons.' But I also have a weapon, and I know how to use it. I could never kill an animal, but I do feel like it'd be dumb to f--- with me."
It's a feeling she's adeptly bottled up and marketed. She's opening up her demo space in Brooklyn's Industry City for classes this spring, and for those who can't get there in person, of course, there are the Wild Captives kits, which she sells online for $299. 
Tichner's TikTok crusade has won her a loyal army that can't get enough of her take on the "knight in shining armor" trope, performing invincibility with cheeky seductiveness. 
Source: https://www.nbcnews.com/nbc-out/out-news/meet-queer-female-ceo-changing-face-archery-rcna80890
Related Posts