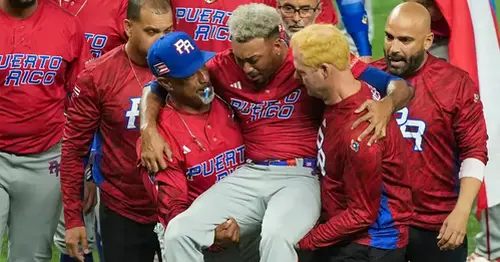 Mets star Edwin DĂ­az injures knee while celebrating win in World Baseball Classic
New York Mets star closer Edwin Díaz suffered a knee injury Wednesday night while celebrating Puerto Rico's win over the Dominican Republic.
The team was jumping up and down and hugging each other following their 5-2 victory at LoanDepot Park in Miami, Florida, when DĂ­az suffered the injury.
Video showed him limping toward the dugout but he struggled to put weight on his right leg. He eventually used his left leg to hop over to a wheelchair.
DĂ­az's brother and Puerto Rico teammate, Alexis, cried as Edwin was taken off the field.
The Mets said in a tweet late Wednesday that the 28-year-old pitcher had injured his right knee and would undergo testing on Thursday.
"We will update when appropriate," the team said.
Edwin DĂ­az pitched a perfect ninth inning to help Puerto Rico advance to the World Baseball Classic quarterfinals. They will face Mexico on Friday in Miami.
Source: https://www.nbcnews.com/news/sports/mets-star-edwin-diaz-injures-knee-celebrating-win-world-baseball-class-rcna75283
Related Posts