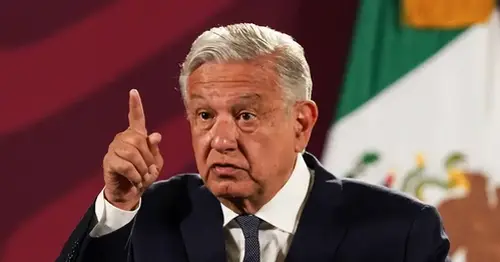 Mexican farmers take over airport; governor tells them to take over U.S. warehouses, instead
MEXICO CITY — Farmers took over over the airport in the northern Mexico city of Culiacan for to protest low prices for their corn and wheat crops.
While the blockade that began Tuesday in Sinaloa state caused the cancellation of dozens of flights before it ended Thursday, it didn't draw much international attention. But the state governor's call to takeover U.S.-owned grain warehouses did.
On Wednesday, Sinaloa Gov. Ruben Rocha appealed to the farmers to leave the airport and instead take over the warehouses or offices of the U.S. food giant Cargill. That drew a stern rebuke from a U.S. expatriate group in Mexico.
President Andrés Manuel López Obrador said Thursday he won't intervene in the dispute, which had prevented flights from taking off or landing since Tuesday.
He accused big farmers, with thousands of acres, of taking advantage of a subsidy system meant for small farmers, and said political opponents were behind the dispute.
"We are not going to give in," López Obrador said but also insisted authorities were "not going to use force" to end the airport takeover.
That may anger travelers in Sinaloa, but it did not have the effect that comments the Sinaloa governor had a day earlier.
"I invite you to go together with me to protest against those who are truly responsible for low crop prices: Gruma, Cargil and Minsa," Rocha wrote in his social media accounts.
Gruma is a Mexican flour producer that is part of Grupo Maseca, and Minsa is a Mexican corn flour producer.
"Instead of taking over the airport, let them take over the warehouses of the big industrial groups," Rocha told local media. "I will go with them."
That raised hackles among American businesses in Mexico.
Larry Ruben, the head of the American Society in Mexico, an expat civic group, slammed the comments, calling them "highly irresponsible."
"We demand the governor retract that, because it clearly is (a) call to commit a criminal act," Ruben wrote Wednesday. "It is inconceivable that an official of his rank would support illegality and crime."
The Minneapolis, Minnesota-based Cargill did not immediate respond to an email request for comment.
The airport announced Thursday afternoon it had re-opened, after the protesters agreed to talks.
Source: https://www.nbcnews.com/news/latino/mexican-farmers-take-over-airport-governor-cargill-rcna89606
Related Posts