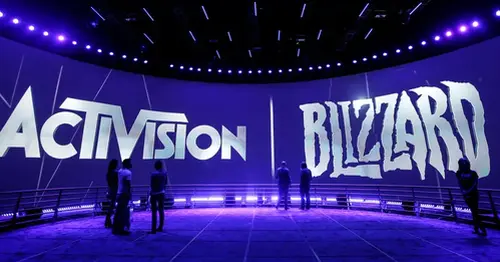 Microsoft-Activision deal moves closer as judge denies FTC injunction request
A federal judge in San Francisco has denied the Federal Trade Commission's motion for a preliminary injunction to stop Microsoft from completing its acquisition of video game publisher Activision Blizzard.
The deal isn't completely in the clear, though. The FTC can now file its appeal of the decision to federal appellate court, and the two companies must find a way forward to resolve opposition from the Competition and Markets Authority in the United Kingdom.
"This Court's responsibility in this case is narrow. It is to decide if, notwithstanding these current circumstances, the merger should be halted—perhaps even terminated—pending resolution of the FTC administrative action," Judge Jacqueline Scott Corley wrote in her decision, published on Tuesday. "For the reasons explained, the Court finds the FTC has not shown a likelihood it will prevail on its claim this particular vertical merger in this specific industry may substantially lessen competition. To the contrary, the record evidence points to more consumer access to Call of Duty and other Activision content. The motion for a preliminary injunction is therefore DENIED."
Activision Blizzard shares reached a session high of $88.03 per share after the U.S. District Court for the Northern District of California issued the decision. Microsoft had agreed to buy the game publisher for $95 per share.
"We're optimistic that today's ruling signals a path to full regulatory approval elsewhere around the globe, and we stand ready to work with UK regulators to address any remaining concerns so our merger can quickly close," Activision Blizzard CEO Bobby Kotick wrote in a memo to employees.
Microsoft also hailed the decision.
"We're grateful to the court in San Francisco for this quick and thorough decision and hope other jurisdictions will continue working towards a timely resolution," Brad Smith, Microsoft's president and vice chair, said in a statement. "As we've demonstrated consistently throughout this process, we are committed to working creatively and collaboratively to address regulatory concerns."
More from CNBC
General Mills is paying this agriculture tech startup to help make Cheerios greener
Apple's Mac market share jumped even though PC sales fell for the sixth consecutive quarter
Sam Altman explains why he's helping to take nuclear microreactor company Oklo public via SPAC
The decision comes after five days of court hearings to assess whether Microsoft would be able to complete the $68.7 billion Activision Blizzard acquisition it announced in 2022. The judge was deciding whether to grant the FTC's request for an emergency injunction to prevent the deal from closing.
The FTC argued Microsoft has shown an interest in making some games exclusive, to prevent them from appearing on Sony's PlayStation or Nintendo's Switch, and that it might do so if the deal were to close. But Microsoft said the company would want to make Activision's titles more widely available, rather than less, partly to grow from people subscribing to its Game Pass library of games. Microsoft CEO Satya Nadella and Activision Blizzard CEO Bobby Kotick both testified, as did executives from Alphabet, Nvidia and Sony.
In December the Federal Trade Commission filed suit to block the deal and have an administrative law judge at the agency assess it. But in June, before that could happen, the FTC requested a preliminary injunction to prevent Microsoft from completing the acquisition, with an eye toward bringing the case to its administrative law judge on Aug. 2. The two companies were looking to close the deal by July 18.
"We are disappointed in this outcome given the clear threat this merger poses to open competition in cloud gaming, subscription services, and consoles. In the coming days we'll be announcing our next step to continue our fight to preserve competition and protect consumers," an FTC spokesperson said.
Kotick said during the hearings that the Activision Blizzard board didn't see how the deal could continue if the judge were to grant the preliminary injunction.
Now the two companies are turning their attention back toward Europe.
Source: https://www.nbcnews.com/tech/video-games/microsoft-activision-deal-moves-closer-judge-denies-ftc-injunction-req-rcna93654
Related Posts