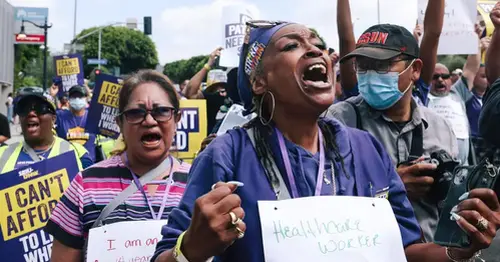 More than 75,000 workers to strike at hundreds of Kaiser Permanente health facilities across U.S.
Workers at Kaiser Permanente — the nation's largest health care nonprofit organization — began a strike Wednesday morning that is set to within hours see more than 75,000 union members walk out of hospitals and medical offices after the company and labor negotiators failed to resolve a dispute over staffing levels.
The Coalition of Kaiser Permanente Unions has described the work stoppage as the largest strike of health care workers in U.S. history.
The strike will target Kaiser hospitals and medical offices serving California, Colorado, Oregon, Virginia, the District of Columbia and Washington state.
The strike began at 6 a.m. ET in D.C. and Virginia.
Other workers will be scheduled to walk out at 6 a.m. local time in the remaining states.
The striking workers include vocational nurses, emergency department technicians, radiology technicians, X-ray technicians, respiratory therapists, medical assistants, pharmacists and hundreds of other positions.
Kaiser Permanente serves nearly 13 million patients and operates 39 hospitals and more than 600 medical offices across eight states and the District of Columbia.
Kaiser said it has contingency plans to ensure patients continue to receive care during a strike.
The strike by Kaiser Permanente employees is the latest action by organized labor this year as inflation and a workforce shortage have brought tensions over pay, benefits and staffing to a boiling point.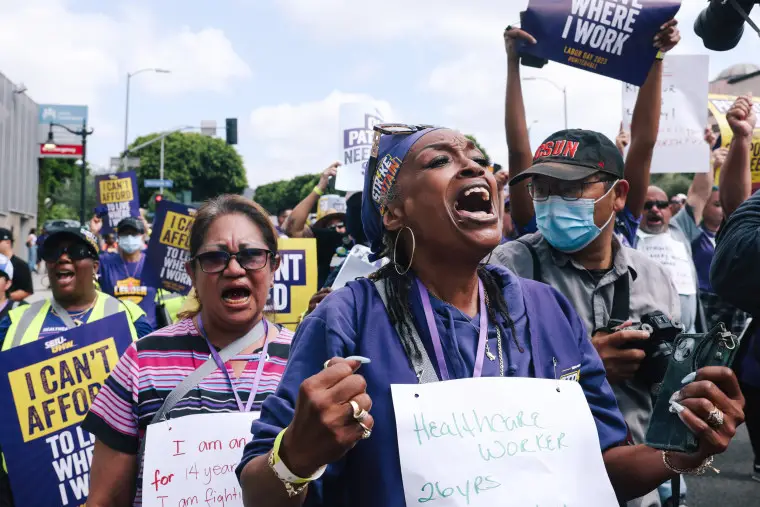 More than 25,000 members of the United Auto Workers are currently on strike against Ford Motor, General Motors and Stellantis. Hollywood writers staged a 150-day walkout that came to an end last week after they secured a pay increase and improved benefits.
The unions at Kaiser are demanding long-term investments to address a staffing shortage in addition to better pay and benefits.
Caroline Lucas, executive director of the Coalition of Kaiser Permanente Unions, said the staffing crisis has led to unsafe working conditions and deteriorating care for patients.
"We continue to have front-line health care workers who are burnt out and stretched to the max and leaving the industry," Lucas told CNBC. "We have folks getting injured on the job because they're trying to do too much and see too many people and work too quickly. It's not a sustainable situation."
Hospitals have long struggled to retain staff because workers tend to leave the low pay and the high stress of the health care field when unemployment is low, according to Patricia Pittman, an expert at the Milken Institute School of Public Health.
The devastating toll of the covid pandemic has compounded the staffing shortage, Pittman said. Many workers left the field because they felt the administration was not doing enough to protect them from both the virus and antagonism from some members of the community, she said.
More from CNBC
Private payrolls rose 89,000 in September, much fewer than expected, ADP says
Uber will now pick up your packages and take them to UPS, FedEx or USPS
Moderna combination Covid, flu vaccine moves to final stage trial after positive data
"The health care workers lived through a period of tremendous fear and uncertainty about themselves, their families, and often did not feel supported by the administration and often did not feel supported by the community," Pittman said.
Kaiser Permanente this week acknowledged the stress that health care workers are facing. More than 5 million people have left their health care jobs and burnout is at a record high, the company said in a statement Monday. Kaiser said it is committed to a fair and equitable agreement.
But the union coalition said management failed to adequately address workers' concerns about unsafe staffing levels. The three-day strike is a protest against Kaiser executives' "bad faith bargaining," the coalition said in a statement Tuesday.
Source: https://www.nbcnews.com/business/business-news/75000-workers-strike-hundreds-kaiser-permanente-health-facilities-us-rcna118769
Related Posts