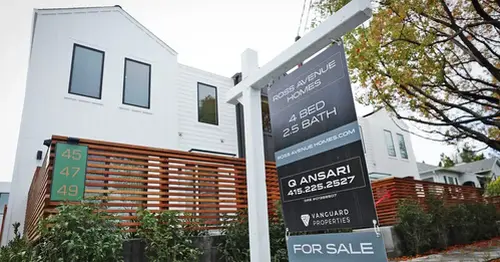 Mortgage demand grows, driven by sales of new homes
Mortgage rates turned higher again last week. But the increase did not cut into mortgage demand, as buyers sought newly built homes.
Total mortgage application volume rose 3% compared with the previous week, according to the Mortgage Bankers Association's seasonally adjusted index. An additional adjustment was made for the Juneteenth holiday.
Applications for a mortgage to purchase a home rose 3% for the week but were 21% lower year over year. These applications have increased for three straight weeks to the highest level since early May, despite still-high mortgage rates.
Home prices drop: Is now a good time to buy or sell?
June 23, 2023
02:55
"New home sales have been driving purchase activity in recent months as buyers look for options beyond the existing-home market," said Joel Kan, MBA's vice president and deputy chief economist, in a release. "Existing-home sales continued to be held back by a lack of for-sale inventory as many potential sellers are holding on to their lower-rate mortgages."
Sales of newly built homes in May soared 12% compared with April and were 20% higher than May 2022, according to a report Tuesday from the U.S. Census. Builders are driving demand in part by offering incentives, like paying down mortgage rates.
Last week the average contract interest rate for 30-year fixed-rate mortgages with conforming loan balances ($726,200 or less) increased to 6.75% from 6.73%, with points remaining at 0.64 (including the origination fee) for loans with a 20% down payment. The average rate for 30-year fixed-rate mortgages with jumbo loan balances (greater than $726,200) rose more sharply to 6.91% from 6.80%.
More from CNBC
Nvidia dips on report U.S. considering new A.I. chip export restrictions for China
Google cuts jobs at Waze as it continues to merge mapping products
Treasury yields dip as investors weigh interest rate outlook
"The spread between the jumbo and conforming rates widened to 16 basis points, the third week in a row that the jumbo rate was higher than the conforming rate," Kan said. "To put this into perspective, from May 2022 to May 2023, the jumbo rate averaged around 30 basis points less than the conforming rate."
The widening spread and the increase in the jumbo rate stem from the recent regional bank failures. Lenders hold jumbo loans on their balance sheets, because Fannie Mae and Freddie Mac don't buy loans of that size. Bank credit, especially at community banks, has tightened substantially, resulting in higher rates.
Source: https://www.nbcnews.com/business/business-news/mortgage-demand-grows-driven-sales-new-homes-rcna91586
Related Posts