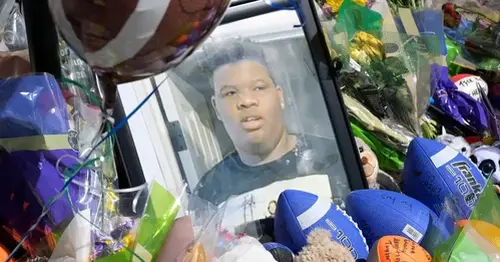 Mother of 14-year-old who died after falling off free fall ride in Orlando reaches settlement in wrongful death suit
The mother of 14-year-old Missouri boy who died after slipping off a free fall ride at a Florida amusement park last year has reached an undisclosed settlement in a wrongful death lawsuit with the park and the ride's operator, her attorney announced Wednesday. 
Tyre Sampson died on March 24, 2022 after falling out of his seat on the 400-foot-tall ride at ICON Park in Orlando, where he was visiting with his football team for spring break.
He fell at least 100 feet onto the hard pavement from the ride, which had no seat belts, according to a wrongful death lawsuit filed one month after his death. 
Tyre's mother Nekia Dodd visited the amusement park for the first time since her son's death on Wednesday to see the towering ride be dismantled. 
"Came down today, it's my first time in Florida. I hate I had to come down under these circumstances. It's a bittersweet moment. The ride's coming down, I'm thankful for that but my son's not coming back," she said to reporters. 
"My son took his last breath on this ride. It's heartbreaking, it's devastating. It's a feeling that I hope no parent will have to go through after this ride comes down," she said, with Tyre's sister and cousin by her side.
Orlando Slightshot announced that the Free Fall ride would be taken down last year and the dismantling process started this week. 
Her attorney Michael Haggard said during the news conference that a settlement was reached between Dodd, ICON Park and the Orlando Eagle Drop Slingshot, which owns the Free Fall ride. 
He said despite settling with the park and ride operator the case, the case continues against the ride's manufacturer.
"The case is not over, this death trap was made by FunTime, who resides out of Austria, who is not under the U.S. Consumer Product Safety Commission jurisdiction, is not under the jurisdiction of the U.S. except for in this court case," Haggard said, referring to Funtime Handels GMBH, the Austrian company designed and manufactured the ride, and was also named in the wrongful death suit.
Dodd said that she would use the settlement "to keep my son's legacy alive" and support schools and sport programs.
NBC News has reached out to Haggard and Slingshot for further comment on the settlement.
ICON Park said in a statement: "With the utmost respect to the family, we defer any questions on this matter to the family."
The park said that it supports proposed legislation to make rider safety more robust and said it agrees with the ride owner's decision to dismantle it.
"Our hearts are with the family as they witness this important milestone," the park said.
Tyre's death garnered national attention and cast new scrutiny on amusement park rides and their safety measures. 
He suffered broken bones and internal injuries in the fall, according to his autopsy, and his death was ruled accidental. Tyre weighed 383 pounds, per the autopsy, above the ride limit of about 285 pounds.
Source: https://www.nbcnews.com/news/us-news/mother-14-year-old-died-falling-free-fall-ride-orlando-reaches-settlem-rcna75250
Related Posts