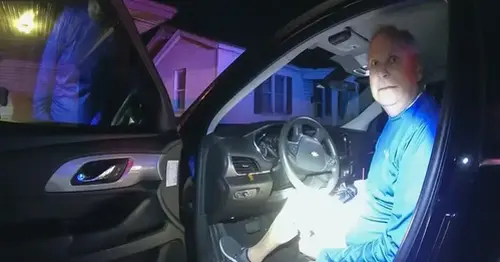 Oklahoma City police chief asks officer to turn off camera after he's stopped for alleged drunk driving, video shows
Body camera video depicts a captain with the Oklahoma City Police Department repeatedly asking a fellow officer to turn off his camera after he was stopped on suspicion of drunk driving.
Captain James "Matt" French was arrested Sunday after Sgt. Chris Skinner said he saw French swerving in his SUV and turning without using a signal, according to the video footage.
Skinner stops French as the captain pulls into the driveway of a home. French immediately gets out with his hands in the air, the video shows. Skinner then orders him back inside the vehicle.
"I'm ..." French begins to say.
"Drunk?" Skinner asks.
"No. I'm the captain," French replies.
French gets back in his SUV and again tells Skinner that he is with the city's police department. He then whispers to Skinner: "Turn your camera off."
Skinner refused the request and asks French to exit the vehicle.
French says on the video that he was at a poker game and had three or four beers. Skinner asks French if he thinks he should have been driving.
"No, but I came from four blocks," the captain responds.
Skinner instructs French to lift one leg and count until he's told to stop. When French loses his balance he again asks the officer to turn his camera off.
"I cannot sir. I know you're aware of our body camera policy. You know I cannot turn off this body camera," the officer says. "I have taken an oath to uphold the law. I don't show favoritism to anyone, regardless. I don't care if you're a gangbanger or the President of the United States."
French is eventually placed in handcuffs after repeatedly losing his balance.
Source: https://www.nbcnews.com/news/us-news/oklahoma-city-police-chief-asks-officer-turn-camera-stopped-alleged-dr-rcna75479
Related Posts