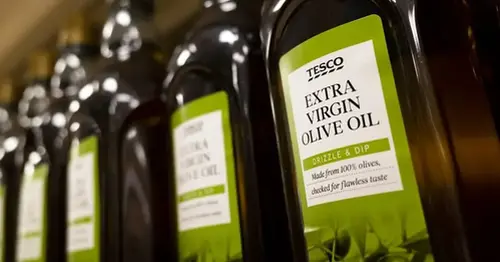 Olive oil prices surge over 100% to record highs and spark cooking oil thefts
Olive oil prices spiked to fresh records as severe droughts in major producing countries crimp supplies — and drive up thefts in cooking oil.
Global prices for olive oil surged to $8,900 per ton in September, driven by "extremely dry weather" in the Mediterranean, according to a recent report by the United States Department of Agriculture. Already, the average price in August was 130% higher compared to the year before, and showed "no sign of easing," USDA said.
Spain, the world's largest producer and exporter of olive oil, has been battered by an intense drought for months. The country also just recorded its third hottest summer, with the average summer temperature 1.3°C higher than normal, according to state meteorological agency AEMET.
According to data from commodity market intelligence firm Mintec, Spain's olive oil production in the recent season has slumped to around 610,000 tons — that's a drop of more than 50% compared to the usual 1.3 to 1.5 million tons.
"Adding to the complexity of the situation are concerns about reduced production in other major European olive oil-producing countries, including Italy and Greece, where drought conditions prevail," Mintec's oilseeds and vegetable oils analyst, Kyle Holland, told CNBC. 
Greece and Italy are the second and third largest producers of olive oil, according to the International Olive Council, an intergovernmental organization made up of members that make up more than 98% of olive production globally.
Olive oil thieves
Prices of olive oil in Spain's Andalusia soared to €8.45 ($9.02) per kilogram in September, Mintec's benchmark showed. It marks the "highest price ever recorded for Spanish olive oil" based on the company's data spanning over 20 to 30 years and represents a year-on-year jump of 111%.
The soaring prices, on what's sometimes referred to as "liquid gold," have led some to steal it.
About 50,000 liters of extra virgin olive oil in one of Spain's oil mills, Marin Serrano El Lagar, were stolen in the early hours of Aug. 30, according to local media reports. That's more than €420,000, or about $450,000, worth of olive oil that the family business lost. There have been no arrests so far.
That's not all.
Shortly before that, thieves made off with 6,000 liters of extra virgin olive oil worth €50,000 from Terraverne oil mill, Spanish newspaper El Munco said. The company's computers, tables, fans and chairs were also reportedly looted during the heist. 
The companies in question did not respond to CNBC's request for comment.
When will it end?
And there's no respite in sight.
Mintec's Holland cautioned that if stocks of olive oil continue to be depleted by the drought, supplies could be exhausted before October, when the fresh harvests usually arrive. 
More from CNBC
Rocket Lab stock drops 20% after first satellite launch failure in over two years
Recession-hit Germany is facing a flurry of global headwinds, Goldman Sachs says
Huawei's chip breakthrough poses new threat to Apple in China — and questions for Washington
"Further complicating matters is Turkey's decision to suspend bulk olive oil exports," said the analyst. "The suspension has worsened the already limited volumes in Spain."
Source: https://www.nbcnews.com/business/business-news/olive-oil-prices-surge-100-record-highs-spark-cooking-oil-thefts-rcna105773
Related Posts