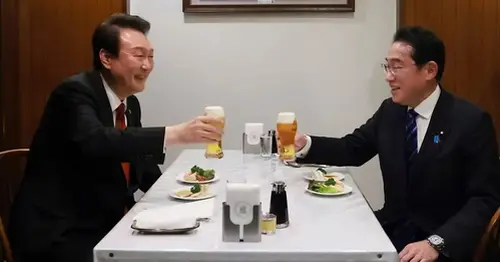 Omurice: A comfort food signals warmer relations are on the menu between 2 key U.S. allies
A rare summit between South Korea and Japan on Thursday was filled with signs of warming ties between the two U.S. allies, including a classic Japanese dish: omelet rice.
Known in Japan as "omurice" the dish is said to be favored by South Korean President Yoon Suk Yeol and it was on the menu as he dined with Japanese Prime Minister Fumio Kishida after their summit in Tokyo — the first between leaders of the two countries in 12 years.
The pair could be seen toasting over what appeared to be an omurice meal at Rengatei, the restaurant said to have invented the dish, in a photo released by Japan's Cabinet Public Affairs Office.
Omurice is a Japanese dish serving fried rice coated with a soft egg omelet, topped with a sweet and savory sauce — often ketchup. It's known as a "yoshoku" dish, which means it was derived from Western cuisine, but with a Japanese twist. It is popular in both Japan and South Korea, being a staple comfort food for a simple, yet filling, meal.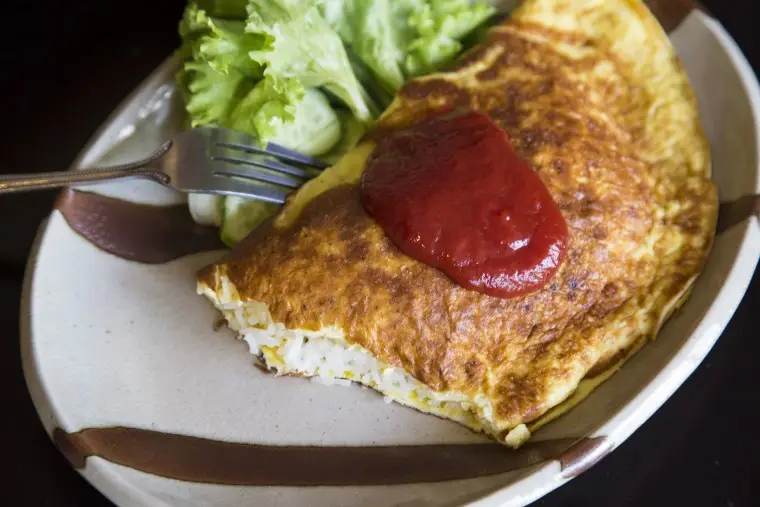 Yoon once told a Japanese official that he had fond memories of Rengatei, a Tokyo restaurant founded in 1895, according to an article in the South Korean newspaper Dong-A Ilbo.
Hugo Dobson, a professor of Japan's international relations at the U.K.'s University of Sheffield, said the plan for the leaders to enjoy a more simple and "down-to-earth" meal appeared aimed at fostering closer "interpersonal relations."
"I'm not that familiar with any special history of omurice but I do know that it was invented about 100 years ago by combining rice and an omelet," Dobson said. "So, definitely not high-end, traditional Japanese cuisine and generally regarded in Japan as comfort food."
"Summit meetings will usually involve formal banquets that showcase some of the best produce and culinary skills of the host country. So, selecting an everyday food like omurice might seem like a surprising choice," he said. "I think there is sometimes a desire to make the meal more down-to-earth in order to foster close interpersonal relations. Or at least appear so in order to provide a carefully stage-managed photo opportunity."
It also helps, Dobson said, that Yoon is reported to "really like omurice."
Although omurice is common in both South Korea and Japan, it differs slightly in style between the two nations. The egg in the omurice in South Korea tends to be firmer, while it is fluffier and creamier in Japan. Japanese omurice also tends to contain chicken, whilst Koreans often use other types of meat.
The dish makes for a fitting meal for two world leaders looking to overcome their differences and "foster an atmosphere conducive to diplomacy," Dobson said.
Thursday's summit represents a milestone in the effort to resolve deep-rooted bilateral issues, while also projecting a strengthened relationship in the face of frequent missile launches by North Korea, which test-launched an intercontinental ballistic missile just hours before the meeting, and deepening concerns over China's role internationally.
Before heading to Tokyo for Thursday's summit, South Korean President Yoon Suk Yeol said "North Korea's reckless provocations will pay the clear price," the Associated Press reported.
In Tokyo, Kishida said: "We must further strengthen cooperation among the allies and like-minded countries." He did not comment on North Korea's possible intentions behind the launch.
Tensions have long existed between Japan and South Korea over the 1910-1945 Japanese colonization of the Korean Peninsula and over acts that unfolded during World War II, including the forced prostitution of so-called "comfort women" for Japanese soldiers.
Those tensions were further frayed after the South Korean Supreme Court ordered Japanese companies to pay compensation to Korean victims or relatives in 2018, with Japan later imposing trade sanctions on South Korea.
Thursday appeared to mark a new chapter in relations between the two countries, with future meetings on the horizon.
Kishida said the meeting would be the first of a return to regular visits between the leaders, with the two countries agreeing to resume defense dialogue and vice-ministerial strategic talks. He further said the meeting would restart a process of trilateral communication between Japan, South Korea and China.
Source: https://www.nbcnews.com/news/world/omurice-comfort-food-signals-warmer-relations-are-menu-2-key-us-allies-rcna75241
Related Posts