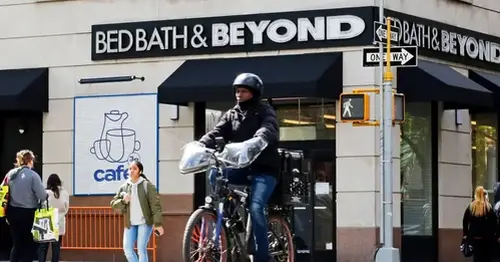 Overstock.com will relaunch Bed Bath & Beyond after buying its IP assets for $21.5 million
Overstock.com will relaunch Bed Bath & Beyond after buying the troubled home goods retailer's intellectual property in a bankruptcy proceeding for $21.5 million.
In a press release Wednesday afternoon, Overstock said that within the next week it would debut a new Bed Bath & Beyond website in Canada, followed weeks later by the relaunch of a refreshed website, mobile app and loyalty program in the United States.
At that point, the company said, customers of both Overstock and Bed Bath & Beyond will encounter a single online shopping destination at bedbathandbeyond.com.
"Bed Bath & Beyond is an iconic consumer brand, well-known in the home retail marketplace," said Overstock CEO Jonathan Johnson. "The combination of our winning asset-light business model and the high awareness and loyalty of the Bed Bath & Beyond brand will improve the customer experience and position the Company for accelerated market share growth."
A bankruptcy court judge approved Overstock's all-cash $21.5 million bid for Bed Bath & Beyond's intellectual property assets on Tuesday. The company said the move would not affect Bed Bath & Beyond's physical store locations, which are still slated to close.
The move also won't impact Buy Buy Baby, which may now be slated for two separate auctions according to CNBC: one for the chain's intellectual property, including its trademark and domain, and another for its physical stores.
Bed Bath & Beyond filed for bankruptcy protection in April, and the fate of its Buy Buy Baby subsidiary remains to be seen.
At the time of its bankruptcy filing, Bed Bath & Beyond reported debts of more than $5 billion. The company folded despite multiple attempts to revive the flagging brand, including a short-lived intervention last year by current GameStop Executive Chairman Ryan Cohen. Part of Cohen's proposed turnaround strategy involved spinning off Buy Buy Baby, which he said in a March 2022 letter was likely "much more valuable" than Bed Bath & Beyond's entire market capitalization.
Bed Bath & Beyond closed multiple locations as part of its early efforts to cut costs.
Cohen's brief interest in the company — he sold his position in the company in November 2022 without further comment — put Bed Bath & Beyond shares into the realm of meme stocks, a retail investor-driven phenomenon in which struggling companies gain interest from day traders who are betting on a long-shot revival.
Source: https://www.nbcnews.com/business/business-news/bed-bath-beyond-overstock-become-one-brand-after-bankruptcy-court-sale-rcna91723
Related Posts