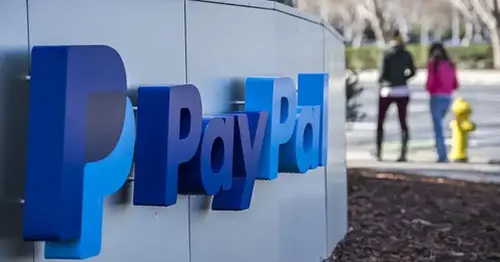 PayPal launches first dollar-backed stablecoin from a major U.S. financial institution
PayPal on Monday launched a U.S. dollar-backed stablecoin to help facilitate payments as its latest addition to its suite of crypto services. It's the first such move from a major U.S. financial institution.
The new asset, called PayPal USD (PYUSD), was designed to address the "emerging potential" to "transform payments in web3 and digitally native environments." Its launch comes as market participants await a vote in Congress on a key stablecoin bill, which has just advanced to the House with three other crypto bills for the first time.
PayPal said the stablecoin's function is to reduce friction for in-experience payments in virtual settings and allowing direct flows to developers. It's redeemable for dollars and backed by dollar deposits, short-term U.S. Treasurys and similar cash equivalents.
"The shift toward digital currencies requires a stable instrument that is both digitally native and easily connected to fiat currency like the U.S. dollar," said Dan Schulman, president and CEO of PayPal. "Our commitment to responsible innovation and compliance, and our track record delivering new experiences to our customers, provides the foundation necessary to contribute to the growth of digital payments through PayPal USD." 
More from CNBC
Apple's iPhone 15 is reportedly set for mid-September launch
How U.S. microchips are fueling Russia's military — despite sanctions
Inside Prague's Institute of Crypto Anarchy — where they're plotting to bring down the dollar
PayPal shares rose more than 1% following the news.
Stablecoins are cryptocurrencies whose prices are pegged to an underlying asset. It's typically a fiat currency — usually the U.S. dollar — although there are also stablecoins whose prices are pegged to commodities or other financial assets.
Source: https://www.nbcnews.com/tech/crypto/paypal-launches-first-dollar-backed-stablecoin-major-us-financial-inst-rcna98548
Related Posts