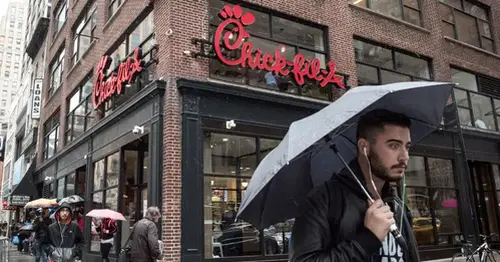 Pennsylvania Chick-fil-A bans unaccompanied minors
A Pennsylvania Chick-fil-A will no longer allow unaccompanied children and teens to dine at its location.
On Feb. 22, Chick-fil-A's franchise location in Royersford incited debate after introducing the new policy.
The announcement, which was issued on the location's Facebook page, pointed to a series of "unacceptable behaviors" behind its decision. Loud volume (peppered with explicit language), mistreatment of property, mistreatment of employees and unsafe behaviors were cited as part of the decision.
"We want to provide a comfortable and safe environment for our guests and our staff, and also to protect our building," the post read. "Therefore, we cannot allow this to continue. As a result, to dine in our restaurant, anyone under the age of 16 is required to be accompanied by an adult."
The franchise thanked those "unaccompanied children and teens" that had visited the location and "acted appropriately," while also iterating to parents that they were not "blaming them."
"Children and teens are learning to navigate the world free from supervision and often push the boundaries," the post continued. "We simply can't let them push those boundaries anymore at our restaurant. We encourage you to talk to your children and ask about behaviors they have seen and perhaps participated in."
Though not permitted to stay at the restaurant without adult supervision, the franchise noted that teens could order food to go.
TODAY.com reached out to both the Chick-fil-A Royersford location and Chick-fil-A headquarters regarding the decision but has not heard back from either as of this story's publication.
Over 300 comments have flooded the announcement on Facebook. The general response has primarily favored the location's choice, with many users expressing their frustration over their experiences at the chain.
"I witnessed a group of these kids a few weeks back on a Saturday while trying to grab lunch, and I gotta say, I'm surprised it took you this long to say something," one person commented. "Their behavior was awful and made for an uncomfortable experience trying to enjoy lunch. I fully support your decision and am sorry you have been dealing with it for so long."
"Although I don't agree with many of CFA's policies, I strongly agree with this one," another replied. "It's too bad a restaurant has to punish all for the bad behaviors of a few, and VERY disappointed that these kids aren't learning manners and how to behave at home. Need parents and guardians to step up!"
"Boundaries must be established for the health and safety of your employees and customers," another user replied. "I applaud Chick-fil-A for taking steps to ensure such."
It's not the first time an eatery has put a ban on unsupervised minors and made headlines for it.
In early February, the New Jersey-based restaurant Nettie's House of Spaghetti announced that it would no longer permit children under the age of 10 to dine at its location. The restaurant explained that extreme challenges such as "noise levels, lack of space for high chairs," and "crazy messes" had gone into the decision for the ban.
In 2021, Red Rooster Burgers and Grill — a family-owned spot in Garden Valley, California — shared its new policy, which would prevent children under 18 from dining without an adult. The restaurant noted that incidents worse were "when school is in session" and perpetuated by more than a single group of children.
Source: https://www.nbcnews.com/news/us-news/pennsylvania-chick-fil-bans-unaccompanied-minors-rcna72661
Related Posts