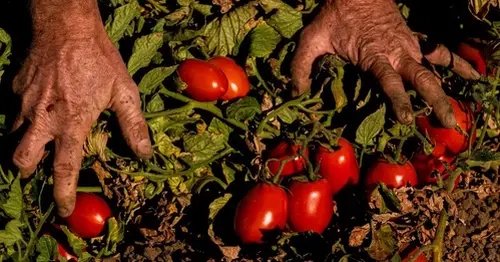 Prices for canned tomato goods could rise as California farms stay soggy after record rain
Ketchup, spaghetti sauce, tomato soup and salsa, all staples in the American kitchen, may be in short supply with higher prices this summer after record rainfall saturated California's tomato fields.
With soil still too wet for planting, farmers postponed the season's start by three weeks, which could translate into a shortage of tomato-based items this summer, according to individual farmers and the California Tomato Growers Association.
The most dire predictions come from farmers themselves, who say some of them could be forced out of the tomato-growing business.
To make up for a shortened planting season, which usually runs 12 weeks from late February to May, some growers are putting more seeds into the ground than usual. But even then, it may be too late, they said.
"I don't think anybody is very optimistic about what our yields are going to be this year," said Aaron Barcellos, a fourth-generation farmer who owns A-Bar Ag Enterprises in the San Joaquin Valley, California's main agricultural region, which is nicknamed "America's salad bowl."
"You can definitely walk into a store and not see your favorite sauce," he said. "You can see increased prices on consumers for ketchup and salsas and other tomato products."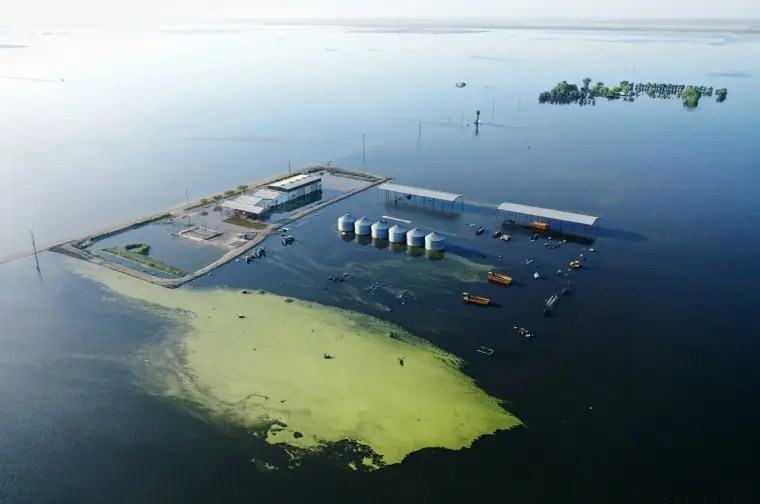 After three years of drought, California experienced record-setting rain and snow this past winter, drenching fields and even regenerating a long-dormant lake.
Welcomed at first, the rain irrigated crops and eased drought conditions, but it also became hazardous as rivers flooded, breaching banks and levees. At least 22 people were killed in the storms, the Los Angeles Times reported.
About a dozen atmospheric rivers, plumes of tropical moisture across the Pacific Ocean, fueled storms that dropped trillions of gallons of water on the state, making farmland too wet for planting.
Flooding also delayed planting for fresh vegetables, which could lead to a national shortage of lettuce, brussels sprouts and artichokes, said Ryan Jacobsen, the CEO of the Fresno County Farm Bureau, a nonprofit group that promotes and protects agriculture. 
California supplies the majority of the country's lettuce and spinach. Fresh fruits, such as grapes, peaches, plums and nectarines, are also three weeks behind schedule, Jacobsen said, but shortages are not expected for them.
Coming into the tomato-planting season, inventory across the country was already in short supply because of years of drought, substandard crops and growers' focusing on other commodities, said Mike Montna, the president of the California Tomato Growers Association.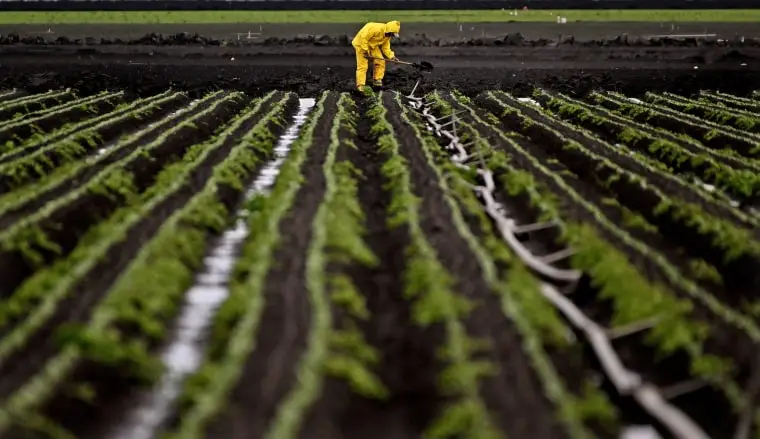 The state's roughly 200 tomato farmers grow 95% of the tomatoes used in canned goods in the U.S., according to the association
A total of 10.5 million tons of tomatoes were grown in California last year. The crop is harvested about four months after planting, and this year growers were projected to produce 12.4 million tons, but expectations have fallen since the storms hit.
"I think most believe our yields will be off this year, but how much really depends on Mother Nature," Montna said, estimating that up to 1 million tons of tomatoes could be lost. Others predicted it could be more.
"There's definitely potential for a shortage," Montna said.
Bruce Rominger, the chairman of the California Tomato Growers Association, said some tomato commodities could be harder to find this summer and at higher prices.
"It would be something where you won't see as many choices on your grocery store shelves," he said. "There will be some categories, maybe ketchup or salsa or a tomato soup, that comes up short."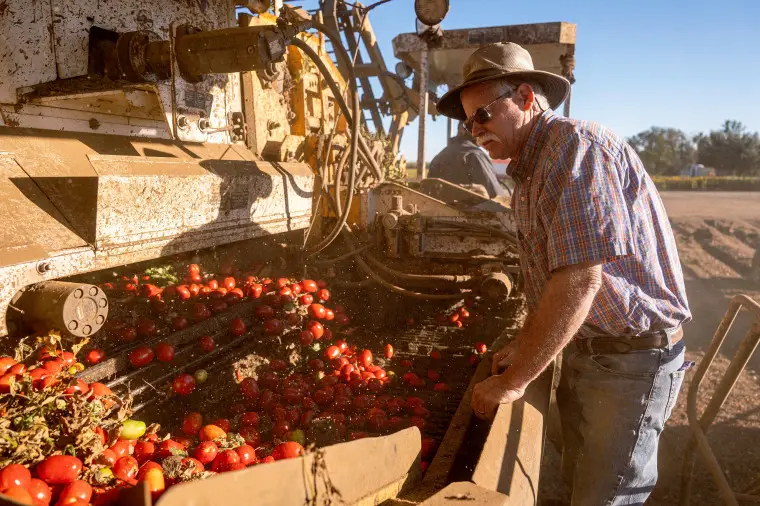 Jacobsen is more optimistic, saying that despite the late start, tomato products should be readily available.
"It's a very limited season, but I don't expect us to get to that point," he said. "People are doing what they can to make up ground. Growers are moving quickly to get more plants into the ground."
Fresno County tomato grower Bret Ferguson said this week he was not ready to predict a national shortage of tomato products.
"There isn't an overabundance of inventory, but I think processors and distributors will work around it," he said. "We always, as an industry, have made things work. You won't see shelves empty of products."
Farmers said growing later in the season can make crops vulnerable to additional rainfall and higher temperatures, causing plants to rot, mold or die.
Typically, farmers sell their tomatoes to processing plants, where they are packaged into items that are sold directly to grocery stores and other retailers.
Sometimes companies will buy tomato paste from processors to make their own canned products for restaurants and stores.
No matter what happens, the threat of a bad growing season hovers over farmers like the dark skies that loomed over their fields for months.
Source: https://www.nbcnews.com/news/us-news/prices-canned-tomato-goods-rise-california-farms-stay-soggy-record-rai-rcna82509
Related Posts