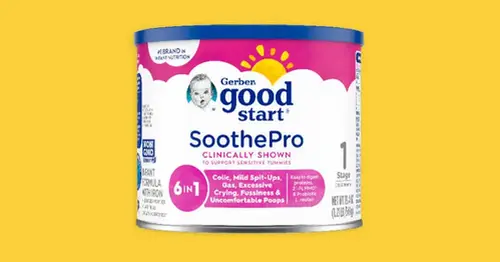 Recalled Gerber baby formula was sent to U.S. retailers after recall began, wholesaler says
An infant formula recalled over potential bacteria contamination was distributed to retailers across eight states after the initial recall notice, according to a release published by the U.S. Food and Drug Administration this week.
In March, Perrigo Co. issued a voluntary recall of certain lots of its Gerber Good Start SoothePro Powder Infant Formula "out of an abundance of caution" due to the possible presence of Cronobacter sakazakii, a germ that can cause serious or deadly infections in infants.
The recall impacted Gerber Good Start formula manufactured between Jan. 2 and Jan. 18 at Perrigo's Eau Claire, Wisconsin, facility. The recalled formula was sold in three different sizes at retailers nationwide, according to a March 17 recall notice.
Cooperative food wholesaler Associated Wholesale Grocers, however, distributed the 12.4-ounce version of the recalled product to its Nashville Division retailers after Perrigo's initial recall notice was published.
As a result, the recalled product was distributed to supermarkets across Alabama, Georgia, Indiana, Kentucky, Ohio, Tennessee, Virginia and West Virginia, Associated Wholesale Grocers said Saturday.
The wholesaler is urging consumers who purchased Gerber Good Start formula at impacted locations to check their products. The recalled formula sold beyond the start of the recall can be identified by its lot codes and "use by" dates — which range from July 4, 2024, to July 12, 2024.
"Any consumers who purchased product with matching codes should discontinue use and dispose of the product," Associated Wholesale Grocers' Saturday notice reads, adding that consumers can request a refund by contacting the Gerber Parent Resource Center on behalf of Perrigo.
In a statement to The Associated Press on Tuesday, Perrigo said that the company informed all customers at the time of the March recall. The Saturday notice from Associated Wholesale Grocers, which Perrigo identifies as a customer, is "not directly associated with Perrigo and has no impact on the company," Perrigo said.
The company also maintained that the March recall was initiated "out of an abundance of caution" — adding that "no Cronobacter sakazakii bacteria has been found in any product distributed for sale and no adverse events have been reported."
The AP also reached out to Associated Wholesale Grocers for further comment Tuesday morning.
Infections caused by Cronobacter sakazakii are rare, but they can be life-threatening for newborns, the Centers for Disease Control and Prevention writes. The bacteria can cause sepsis and meningitis, according to the CDC.
Cronobacter sakazakii was the same germ that sparked Abbott Nutrition's recall following a nationwide shortage of powdered infant formula last year. According to the FDA and CDC, Cronobacter sakazakii is found naturally in the environment and is "particularly good" at surviving in dry foods like infant formula — which can get contaminated at home or in processing facilities.
The bacteria can also live on home surfaces and other feeding equipment. Experts stress the importance of taking everyday sanitation measures for safety.
Source: https://www.nbcnews.com/news/us-news/recalled-gerber-baby-formula-was-sent-us-retailers-recall-began-wholes-rcna84703
Related Posts