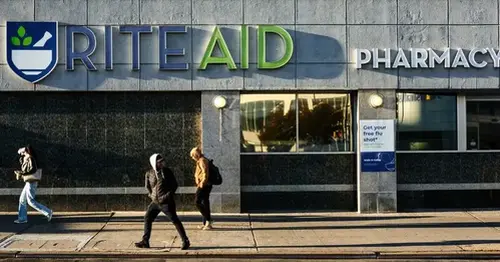 Rite Aid is closing more than 150 stores. Here's where they are.
Rite Aid has announced it will close at least 154 stores as part of its bankruptcy process.
The chain had 2,253 stores as of Sept. 3, and the U.S. Bankruptcy Court in New Jersey also approved additional closings at a later date. The company has not disclosed how many more stores it may shut down.
Rite Aid filed for Chapter 11 bankruptcy protection on Sunday after struggling for years with debt and sluggish sales. The Wall Street Journal reported in September that Rite Aid was negotiating with its creditors over a plan to close 400 to 500 stores.
The states hardest hit by the closures include Pennsylvania, California and New York.
Rite Aid is currently the third-largest U.S. drugstore chain behind CVS and Walgreens, which have around 9,000 locations each. But all three are closing stores as they deal with greater competition from pharmacies in big box stores and grocery chains, as well as newer retailers in the beauty industry and online pharmacies.
The loss of pharmacies is a serious problem, especially for people in poorer urban and rural areas, according to Nick Fabrizio, senior lecturer in health policy at Cornell University and also a consultant for hospitals and medical groups.
"If that's your one Rite Aid that's closing, the thought of having to go 20 minutes to find another Walmart or another pharmacy is daunting," he said, referring to people in smaller towns.
Fabrizio added that the closures aren't just inconvenient for people who have to drive farther to fill a prescription. It means people will have a harder time getting everything from bandages to over-the-counter medications.
And over the last few years, since the start of the Covid-19 pandemic, pharmacies have started to replace physicians' offices as a destination for all sorts of vaccinations.
"Pharmacies since Covid are doing so much more, including immunizations, and if we take them out of the picture that's significant," Fabrizio said. "Right now there is no one to backfill in these pharmacy deserts."
Source: https://www.nbcnews.com/business/business-news/rite-aid-closing-150-stores-where-locations-near-me-rcna121033
Related Posts