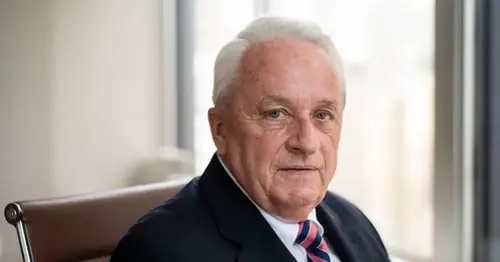 Robert Costello to testify before Trump grand jury on Monday
Attorney Robert "Bob" Costello, once a legal adviser to Michael Cohen, has told NBC News that he will testify Monday before the Manhattan grand jury considering former President Donald Trump's case on Monday.
Trump's attorneys asked the District Attorney for Costello to testify in the case involving a hush money payment to adult film star Stormy Daniels during the 2016 presidential campaign, according to a person with direct knowledge of the situation.
The news was first reported by the The New York Times.
Cohen, Trump's former lawyer who pleaded guilty in federal court in 2018 to making the illegal payment to Daniels, testified before the grand jury last week. He has also met with prosecutors more than 20 times.
Cohen alleged that Trump directed him to pay the hush money for the "principal purpose of influencing" the 2016 presidential election. He told NBC News that he will return to the district attorney's office Monday to standby as a rebuttal witness.
The expected witness may contradict Cohen's previous testimony. Costello told NBC News on Sunday that he never signed a retainer agreement. He also said Cohen waived the attorney client privilege in 2019 — a move that shocked attorneys who became aware of it.
Cohen, meanwhile, said Costello never represented him.
A spokeswoman for the Manhattan district attorney's office declined to comment.
The district attorney's office convened the grand jury to look into the payment to Daniels, who alleges she slept with Trump before he became president. Trump has denied any wrongdoing and said he didn't have an affair with Daniel. But he did acknowledge that he repaid Cohen the $130,000, a payment that he claims was legal.
Tacopina said this month that Trump's attorneys have "no plans" to meet with the district attorney's office. And last week, Trump attorney Joe Tacopina said the Trump will not appear before the grand jury.
NBC News reported Friday that law enforcement agencies are gearing up for a possible Trump indictment as early as next week. Following the report, Trump predicted in a post to his social media platform Truth Social on Saturday that he would be arrested Tuesday and called on supporters to protest.
Source: https://www.nbcnews.com/politics/donald-trump/robert-costello-testify-trump-grand-jury-hush-money-payment-rcna75668
Related Posts