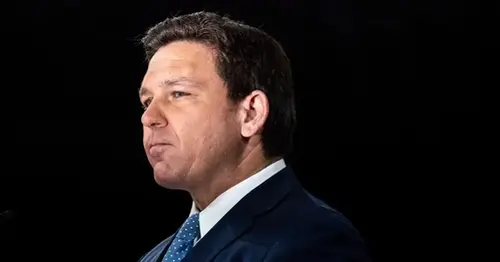 Ron DeSantis-appointed board nullifies controversial Disney agreement
A local governing board appointed by Florida Gov. Ron DeSantis passed a resolution Wednesday to void an agreement that allowed Walt Disney World to maintain control over much of its business operations amid an ongoing power struggle with the governor.
"Disney was openly and legally granted a unique and special privilege, that privilege of running its own local government," Alan Lawson, a former Florida Supreme Court justice whose firm was hired by the DeSantis-appointed board, said during the board meeting. "That era is ending."
The unanimous vote of the Central Florida Tourism Oversight District is the latest step in a yearlong fight between the governor and Walt Disney World after the entertainment giant's then-CEO Bob Chapek issued a statement in March 2022 opposing DeSantis-backed legislation that aimed to ban the discussion of gender identity and sexual orientation in classrooms up to third grade. The bill was dubbed "Don't Say Gay" by opponents.
The current Disney chief executive, Robert Iger, called DeSantis "anti-business" at the company's annual shareholder meeting this month.
After Chapek issued his initial statement, DeSantis proposed ending the company's long-held power of self-governance. Ultimately the Republican-dominated Legislature passed a bill allowing, among other things, the governor to appoint a new board.
The district, which was previously called the Reedy Creek Improvement District, has a footprint in two central Florida counties near Orlando and employs 75,000 people. 
As it became clear that DeSantis was going to force the old board out, its members passed a little-noticed agreement in February that would have kept much of the power of self-governance with Walt Disney World, not the new board. That move angered DeSantis and reignited his fight with one of the state's biggest employers.
During a meeting last week, the board outlined a handful of punitive measures not backed by Walt Disney World, including offering legal support to local taxing authorities the company has sued over property appraisal disputes, hiring an "independent rate consultant" to scrutinize how a district-owned utility company sets rates, and raising taxes — a move the board said might need to be done to pay for legal costs associated with reviewing the old board's agreements. 
The board spent a good chunk of the meeting Wednesday going over reasons that it feels the agreement in question is illegal, including the questions over whether the old board sent out proper public notice, and the fact that, the new board argues, it did not have legal authority to make those changes on its own without explicit approval of the handful of individual cities in the district, which it did not get.
"The bottom line is that a development agreement has to be approved by the governing body of the jurisdiction," said board Chair Martin Garcia. "And that didn't happen from the cities that have jurisdiction." 
He called the old board's action an "absolute legal mess."
A spokesperson for Walt Disney World did not return a request for comment, but as expected shortly after the board voted, the company filed a lawsuit in federal court against the DeSantis administration, the five-member board he appointed and other state officials.
"A targeted campaign of government retaliation — orchestrated at every step by Governor DeSantis as punishment for Disney's protected speech -- now threatens Disney's business operations, jeopardizes its economic future in the region, and violates its constitutional rights," the lawsuit read.
Jeremy Redfern, a spokesman for DeSantis, called Disney's lawsuit "yet another unfortunate example of their hope to undermine the will of the Florida voters and operate outside the bounds of the law."
"We are unaware of any legal right that a company has to operate its own government or maintain special privileges not held by other businesses in the state," he said.
At the beginning of the meeting, several owners of restaurants in the district expressed concern that the ongoing fight between Walt Disney World and the governor could hurt local businesses.
"This dispute has continued for more than a year already," Mark Gibson, co-founder of the restaurant Splitsville, said. "We have to deal with guests and customers, and are worried there will be repercussions for our restaurants."
Though he's widely expected to enter the 2024 race, DeSantis isn't yet a presidential candidate. But that didn't stop at least one potential rival from taking aim at his latest move. Nikki Haley, a presidential contender and former governor of South Carolina, said Disney would be welcomed with open arms in her home state should it choose to leave Florida.
Source: https://www.nbcnews.com/politics/2024-election/ron-desantis-appointed-board-nullifies-controversial-disney-agreement-rcna81224
Related Posts