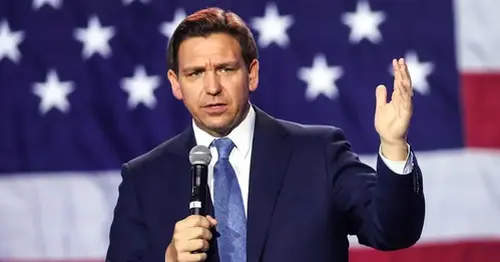 Ron DeSantis breaks his silence on a possible Trump indictment
After remaining silent over the weekend, Florida Gov. Ron DeSantis took shots at the "Soros-funded prosecutor" in Manhattan involved in an ongoing hush money case against former President Donald Trump.
"I have no interest in getting involved in some manufactured circus by some Soros-DA," DeSantis said at a news conference Monday, referring to Manhattan District Attorney Alvin Bragg. "He's trying to do a political spectacle. He's trying to virtue signal for his base. I've got real issues I got to deal with here in the state of Florida."
"I don't know what's going to happen but I do know this: the Manhattan district attorney is a Soros-funded prosecutor," he added.
DeSantis accused the district attorney of weaponizing his office by going after Trump, charging that the prosecutor had overlooked other, more recent crimes in the meantime.
DeSantis, the strongest potential 2024 challenger to Trump, took great care to specify the allegations facing the former president.
"I don't know what goes into paying hush money to a porn star to secure silence over some type of alleged affair, I just, I can't speak to that," he said. "That's an example of pursuing a political agenda."
The comments came after Trump late last week announced that he expected he would be arrested in the ongoing case in Manhattan on Tuesday. Liberal mega-donor George Soros, through the Color of Change PAC, helped back Alvin Bragg's campaign for Manhattan district attorney.
Trump's team over the weekend made known their disapproval that DeSantis had not commented.
Source: https://www.nbcnews.com/politics/2024-election/ron-desantis-breaks-silence-possible-trump-indictment-rcna75747
Related Posts