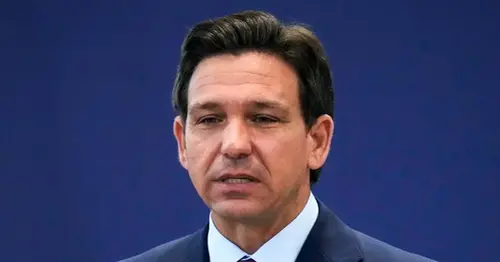 Ron DeSantis' economic platform goes after China, corporations and the 'elites'
ROCHESTER, N.H. — Florida Gov. Ron DeSantis unveiled his economic agenda on Monday, interspersing a mix of traditional conservative talking points with pledges to use government power to go after large corporations that promote socially conscious investing or diversity initiatives.
Speaking before about 100 people inside the warehouse of a local logistics company, DeSantis detailed his alignment with longtime conservative policy positions like cutting taxes, the size of government, spending and regulations, as well as boosting domestic energy production, GDP growth and immigration enforcement. But DeSantis also zoomed in on reducing economic ties with China, eliminating trade deficits, taking on corporations for hiring and investing practices not aligned with his brand of politics — similar to his longstanding battle with Disney — and ending what he described as President Joe Biden's "war on Bitcoin and cryptocurrency."
In announcing his "Declaration of Economic Independence," DeSantis derided "elites" roughly a dozen times while pledging to "reject the technocratic management of American decline."
"We cannot have a policy that kowtows to the largest corporations on Wall Street at the expense of small businesses and average Americans," he said. "There's a difference between a free-market economy, which we want, and corporatism, in which the rules are configured to be able to help the incumbent companies."
Currently the No. 2 candidate in GOP primary polling behind Donald Trump, DeSantis is trying to make up a growing gap between him and the former president. His campaign earlier this month, as NBC News reported, pledged a reset for the candidate that would include smaller events, more engagement with a variety of media sources and less of a focus on Florida.
But the Sunshine State took center stage in promoting his economic vision. DeSantis promoted Florida's promising business rankings, its substantial economic growth in recent years and his having run budget surpluses at the state level. (Not mentioned was a rate of inflation in the state's major metro areas that far outpaces the national average.)
"We beat the elites and we showed the way forward to restore freedom and opportunity for people all throughout this country," he said. "And I will fight as president for the American people just like we fought for the people of Florida."
DeSantis sought to portray a nation in decline facing dire economic straits at a time when inflation — which remains thorny — fell to 3% last month, the 12th straight month of declines, led by declining gas prices. What's more, the unemployment rate has hovered around 3.5% for much of the year while the S&P 500 is up almost 20% since January, nearly hitting its all-time peak from the end of December 2021.
DeSantis pointed to an increased number of men leaving the workforce and a desire "to be a country where a family or we can raise a family on one sole income."
"We are a nation with an economy, not the other way around," he said. "We are citizens of a republic. We are not cogs in a global economic empire."
DeSantis saved some of his strongest language to call out companies that are promoting ESG investing, which stands for environmental, social and governance, as a way to "advance an ideological or political agenda" that circumvents the government. He also highlighted the recent Supreme Court ruling knocking down affirmative action programs in education as a template to go after diversity initiatives in the private sector.
"That ruling should apply across the board for our economy and the so-called DEI programs that many corporations have embraced," he said, using the acronym for diversity, equity and inclusion. "Those are discriminatory programs. If they have you go through a training and say somehow you have white privilege, that is [as] wrong as judging somebody based on the color of their skin."
Some conservatives have expressed qualms about DeSantis' effort to target private companies for such decision making. A New York Times/Siena College survey published Monday found that a majority of Republicans would be more likely to support a candidate who "says the government should stay out of deciding what corporations can do" rather than a candidate "who promises to fight corporations that promote a 'woke' left ideology."
DeSantis, as he mocked degrees in "Gender Studies" and "Zombie Studies," also pointed to a wide-ranging education platform he tied directly to the economy, including a call for universities to be responsible for the student debt of graduates who are unable to find well-paying jobs.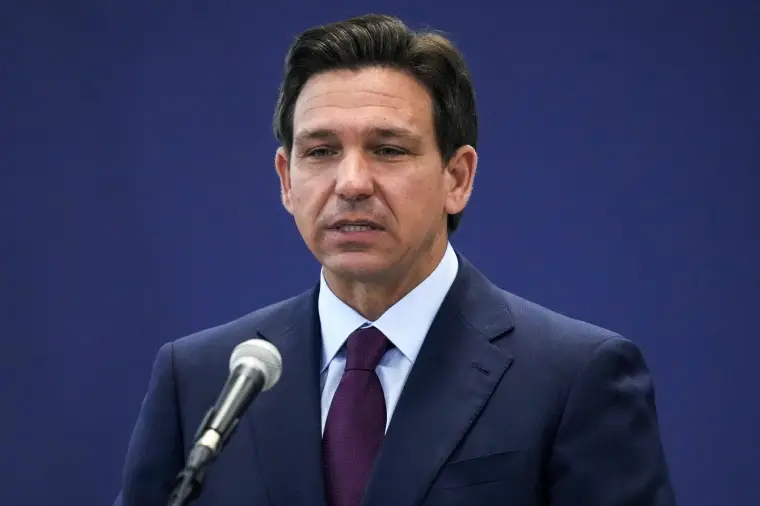 "You produce somebody that can be successful, they pay off their loans," he said. "If you don't, then you're going to be on the hook. That will cause a change in the type of course programs that a lot of these universities are offering. They're not going to afford to be doing ideological studies because they know that's not going to lead to gainful employment."
During a question-and-answer session with reporters, DeSantis was pressed on how his call for increased American energy production clashes with his efforts in Florida to prevent offshore drilling there. He said he was merely honoring a state constitutional amendment that did not allow for such drilling and that he does not think that should apply nationally.
"Because we're a coastal state, we've had oil spills," he said. "We put that in the Constitution, our voters did, and that's something as governor that I've followed and respected."
Jim Tobin, a voter from Madbury, New Hampshire, who plans to vote for DeSantis in the first-in-the-nation primary, said Monday was the first time he saw the candidate in person. He said he was excited about DeSantis' policy agenda and feels the candidate has less "baggage" than Trump, whom DeSantis is currently "getting killed" by in surveys.
Source: https://www.nbcnews.com/politics/2024-election/ron-desantis-economic-platform-goes-china-corporations-elites-rcna97335
Related Posts