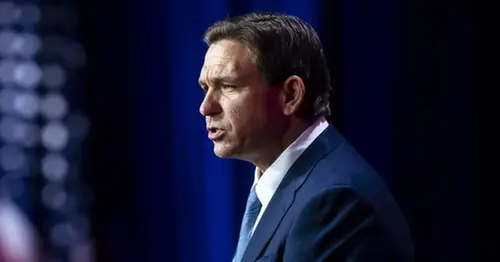 Ron DeSantis pushes for Disney trial to start after 2024 election
TALLAHASSEE, Fla. — Attorneys for Gov. Ron DeSantis are asking a federal judge to wait more than two years to start a trial in the administration's long-running legal fight with Disney, a time frame that would have them in court after the 2024 presidential election.
The lawyers for DeSantis, who is running for president, said that the discovery process in the case should be delayed for a number of reasons, including that they filed a motion to dismiss the lawsuit this week.
In their motion, the attorneys argue that Disney does not have the standing to sue the governor because he does not directly enforce the laws at issue, and he has legislative immunity that "shields" him from being sued for his role in crafting specific pieces of legislation.
"Disney has grabbed headlines by suing the governor, Disney — like many other litigations before who have challenged Florida laws — has no basis for doing so," reads the motion filed Monday with the U.S. District Court for the Northern District of Florida.
The DeSantis administration is also asking U.S. Magistrate Judge Michael J. Frank to functionally freeze the federal case because there is a separate lawsuit filed by the DeSantis administration against Disney in state court, which it argues is the proper venue for such a legal challenge.
DeSantis' legal team would like an August 2025 trial date in the federal case, while Disney's attorneys have asked the judge for a July 2024 trial.
Disney sued DeSantis in April over what it said was a "targeted campaign of governmental retaliation." It was the latest in a fight that has gone on more than a year, which started after the entertainment giant issued a statement critical of Florida's so-called Don't Say Gay bill signed into law by DeSantis in 2022. It banned the discussion of general identity or sexual orientation in public school classrooms up to third grade.
Over the next year, DeSantis came up with a plan to get the GOP-dominated Legislature to pass a bill allowing him to appoint the board members that oversee a special governing district that has a big impact on much of the company's Florida-based business operations. 
The federal lawsuit was filed shortly after the DeSantis-appointed board voted to void an agreement passed by the previous board that would have allowed Disney to maintain control over its operations even after the DeSantis-appointed board was installed.
The separate state lawsuit was filed in Orange County court where Disney has much of its business operations. In it, the DeSantis-appointed board, called the Central Florida Tourism Oversight Board, argued the court should legally invalidate the agreements the old board passed to allow Disney to maintain control.
Source: https://www.nbcnews.com/politics/2024-election/ron-desantis-pushes-disney-trial-start-2024-election-rcna91603
Related Posts