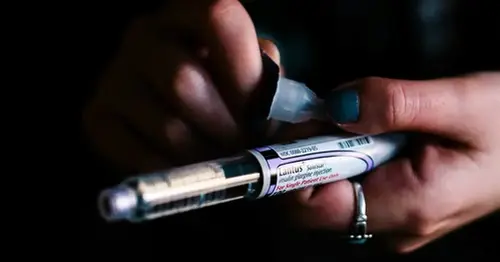 Sanofi announces insulin price cap of $35 per month out-of-pocket
Sanofi will cap the out-of-pocket cost of its most popular insulin, Lantus, at $35 per month for people with private insurance, the French drugmaker said Thursday. The change will take effect Jan. 1, 2024.
Sanofi is the last of three major insulin makers in the United States to cut or cap the price of the drug.
Both Eli Lilly and Novo Nordisk announced changes to how they price their insulin this month. Together, the three drugmakers make up roughly 90% of the insulin market in the U.S.
"It seemed like only a matter of time" before Sanofi also made changes, said Stacie Dusetzina, a health policy professor at Vanderbilt University Medical Center in Nashville, Tennessee. "You don't want to be a standout."
About 8.4 million people in the U.S. with diabetes rely on insulin, according to the American Diabetes Association.
Sanofi already offers a $35 monthly cap for people without insurance.
In addition to the price limit for people on private insurance, Sanofi will also lower the list price of Lantus by 78% and its short-acting insulin Apidra by 70%. Those moves will benefit people with high deductibles.
"This is a big deal," said Larry Levitt, the executive vice president for health policy at KFF, formerly known as the Kaiser Family Foundation. "This is a combination of market forces, government Medicaid rebate policies and public pressure."
Dusetzina agreed that a new Medicaid rebate policy is a driving force behind the cuts. Starting in 2024, the rule will penalize drugmakers that raise the price of their drugs faster than the rate of inflation.
Insulin makers in the U.S. have faced pressure from lawmakers and advocacy groups to lower the price of the medication, which is much costlier in the U.S. compared to other countries. The pressure only intensified following the passage of the Inflation Reduction Act, which capped the monthly out-of-pocket cost of insulin at $35 for seniors on Medicare.
Earlier Thursday, Senate Majority Leader Chuck Schumer, D-N.Y., sent a letter to the CEO of Sanofi, urging the executive to lower the cost of the company's insulin, following price reductions from Eli Lilly and Novo Nordisk.
Lisa Murdock, chief advocacy officer for the American Diabetes Association, said she was "encouraged" that all of the major insulin makers had taken steps to make insulin more affordable, "but the fight is not over."
"We will continue advocating for efforts in Congress and states across the country to ensure insulin is affordable to everyone with diabetes who relies on it to survive," Murdock said.
Source: https://www.nbcnews.com/health/health-news/sanofi-insulin-price-cap-rcna75346
Related Posts