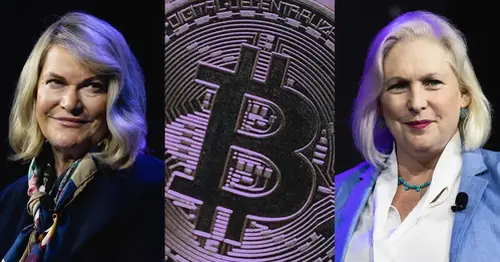 Sen. Lummis says crypto bill could prevent another FTX-style crisis
WASHINGTON — Following a tumultuous year for crypto, a bipartisan duo in Congress is seeking to direct the U.S. government to regulate the industry with a bill that, they say, could prevent another FTX-style disaster.
Last week, Sens. Cynthia Lummis, R-Wyo., and Kirsten Gillibrand, D-N.Y., introduced a reworked bill based on the one they revealed months before the collapse of FTX last fall; they have dubbed it "the most comprehensive" bill to address the digital currency space.
"We know how to regulate it. We know how to safely define what is a commodity and what is a security," Lummis said in an interview at her office in the Senate Russell Building. "We can put sufficient consumer protections and safeguards on this industry so that something like the failure of FTX would likely not happen in the United States."
Their proposal would, for the first time, draw a clear line between a security and a commodity, and allocate enforcement authority to the agencies that oversee them. 
The legislation also looks to empower the Securities Exchange Commission to play more of an aggressive role in ensuring consumer protections.
"Over the past year, we worked together and with key stakeholders to improve our framework — we added strong new consumer protections and anti-money laundering provisions, delivered additional resources to regulatory agencies so they can enforce new regulations, and created clarity so that businesses can innovate responsibly," Gillibrand said in a statement.
Under the bill, companies would be required to disclose cryptocurrency risks to consumers by proving reserves and communicating with customers using clear, plain language.
The bill also grants the Commodities Futures Trading Commission jurisdiction over nonsecurities crypto assets, and requires all crypto asset exchanges to register with the commission.
Lummis said she and Gillibrand "believe the CFTC is ready for its role" in regulating the crypto industry, and that the SEC is "very capable of providing adequate consumer protections and disclosures" because of the commission's existing experience in the space.
Because last year's version of the bill viewed many digital assets as intangible "ancillary assets," most cryptocurrencies would have been treated as commodities under CFTC's purview. This time around, the senators said they tried to remedy the SEC's concerns that the legislation would cede too much power from the regulatory arm.
In recent months, SEC Chair Gary Gensler has beefed up scrutiny over the crypto industry, charging industry giants Binance and Coinbase with violating securities laws — as supporters of digital assets say Gensler is misusing his authority. 
Lummis said it's just another argument that proves the industry is ready for regulation.
"Companies like Kraken and Coinbase have gone to the SEC and asked them to be clear and lay out the regulatory requirements that the SEC believes should apply to them," she said. "And they're frustrated because they feel like they were trying to comply, but instead some of them got enforcement actions slapped on them."
Facing regulatory uncertainty, interested lawmakers and investors alike fear crypto companies will ramp up their businesses overseas and eventually leave the U.S. altogether. In a report issued this year, JPMorgan urged lawmakers to produce "a comprehensive framework on how to regulate the crypto industries and the relative responsibilities of SEC vs the Commodity Futures Trading Commission."
Despite some crypto skeptics in Congress wary of propelling "decentralized" finance into the mainstream, Lummis and Gillibrand's legislation isn't the only game in town. 
Over in the House of Representatives, Financial Services Committee Chairman Patrick McHenry, R-N.C. — who launched the first-of-its-kind subcommittee dedicated to providing oversight of digital assets — has released a Republican-led discussion draft of his regulatory framework.
The proposal is more targeted than the one put forth by the two senators, and that's in part due to the hesitancy of some lawmakers to address the untested industry head-on; on the other side of the Capitol, there is an appetite for a more piecemeal approach. 
McHenry's draft, introduced last month alongside Reps. Glenn Thompson of Pennsylvania, French Hill of Arkansas and Dusty Johnson of South Dakota, "is guided by the same principles" as the Lummis-Gillibrand bill when it comes to distinguishing what falls under the SEC versus the CFTC, according to one senior GOP aide familiar with the House plan.
"I appreciate Senator Lummis and Senator Gillibrand's continued work to provide clear rules of the road for the digital asset ecosystem. I look forward to reviewing their legislative proposal and seeing where we can find common ground in this bipartisan and bicameral effort," McHenry told NBC News in a statement. 
A close ally of House Speaker Kevin McCarthy, R-Calif., McHenry has planned hearings in key committees and aims to incorporate feedback from members on both sides of the aisle before officially filing the bill, the aide added.
"A regulation by enforcement-only agenda does not serve consumers or American competitiveness." McHenry said. "Lawmakers who want to ensure the United States continues to lead the world in technology development will support these types of proposals that protect and encourage innovation here at home."
Lummis, a longtime crypto proponent, said that in the divided Congress, regulating the digital asset space is perhaps one of the only areas of "compromise" between Democrats and Republicans, as both sides have also worked to prioritize other areas of technology, like artificial intelligence.
"This is one of those rare subjects where it's bipartisan, it's bicameral. There is a pretty strong recognition by the people on the committees of jurisdiction that it's time to regulate," Lummis said, "and that these approaches have been vetted through the industry and the regulators and the House and Senate, and that there's enough consensus as to the general approach, that it's time to proceed," she continued.
On Wednesday, Lummis and Gillibrand partnered with another unlikely bipartisan duo, Sens. Roger Marshall, R-Kan., and Elizabeth Warren, D-Mass., to introduce an amendment to the must-pass National Defense Authorization Act that would prevent the use of cryptocurrency assets in illicit financial transactions. The amendment is not currently expected to come up for a vote, but it speaks to the urgency on both sides of the aisle to regulate the industry, even on a piecemeal basis.
As for how the unusual partnership between an East Coast Democrat and a self-described libertarian-leaning rancher came together, Lummis said Gillibrand comes from "the financial center of the country so she's motivated because of her position as a New York senator with expertise in securities. I'm motivated by my state's role, and our personalities just seem to dovetail."
Source: https://www.nbcnews.com/politics/congress/sen-lummis-says-crypto-bill-prevent-another-ftx-style-crisis-rcna89352
Related Posts