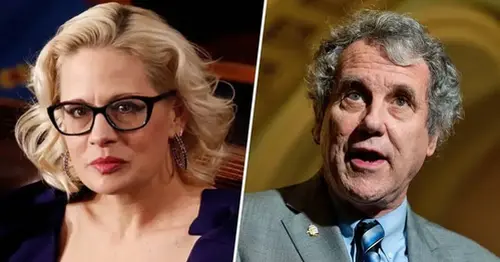 Senate Banking Committee faces intense 2024 politics in bank collapse hearings
WASHINGTON — Bank failures have put a spotlight on the Senate Banking Committee as it eyes its first hearing into the jittery financial sector. The panel is packed with important players in the 2024 election, which could influence their approaches to an investigation into two of the largest bank collapses in U.S. history.
The roster includes numerous vulnerable red-state Democrats who are running for re-election, a group of progressive populists, an expected Republican presidential candidate and the GOP's Senate campaign chief, setting up a politically tense environment that underscores the challenges of agreeing on a path forward.
It all comes at a time of rising populist sentiments in both parties as President Joe Biden and former President Donald Trump, the 2024 Republican primary front-runner, offer contrasting prognoses for the collapse of Silicon Valley Bank as they seek to rally voters.
Sen. Sherrod Brown, an Ohio Democrat and chairman of the committee, has crafted a populist image as a sheriff of Wall Street. He also faces re-election in a marquee race that is a must-win for his party, and will be under the microscope in his red-trending state as he seeks to make the case for renewed oversight of the financial sector.
Banking industry under pressure after Silicon Valley Bank collapse
March 19, 2023
04:46
"It's such a clear lesson in government that these powerful corporations with their very effective, well-paid lobbyists weaken protections for the public and then, lo and behold, something happens," Brown said.
Brown has scheduled a March 28 hearing with key financial regulators: Federal Reserve vice chair for supervision Michael Barr; Federal Deposit Insurance Corp. chair Martin Gruenberg; and Treasury's undersecretary for domestic finance Nellie Liang.
Brown said it's "critical that we get to the bottom of how Silicon Valley Bank and Signature Bank collapsed" to protect Americans' money and impose accountability for those responsible, "including the CEOs."
Republicans navigate conflicting goals
The top Republican on the Banking Committee, Sen. Tim Scott of South Carolina, is actively considering a presidential run. Like others in his party, he's seeking to balance a voter appetite to punish bank executives with traditional GOP views against regulation.
Scott wrote a letter signed by Banking Committee Republicans that blamed SVB's collapse on the "apparent failure of SVB's regulators," citing the Fed and the Federal Reserve Bank of San Francisco, "to ensure that the bank operated in a safe and sound manner."
Also on the committee is Sen. Kyrsten Sinema, the enigmatic Arizona independent who recently quit the Democratic Party — she hasn't yet said whether she's running for re-election next year. Her Democratic rival, if she runs, is Rep. Ruben Gallego, who has been pummeling Sinema for partnering with Republicans to support a 2018 law that eased regulations and stress tests on midsize banks like SVB, blaming the law for the bank's collapse.
Sinema has teamed up with Sen. Thom Tillis, a North Carolina Republican, to write a letter to Federal Reserve's Barr saying that regulators had the tools to foresee the crisis and "may have missed clear warning signs in the lead up to the failure of SVB." She declined to respond to Gallego.
"Senator Sinema is not engaging in campaign politics, and is remaining focused on solutions and ensuring those responsible are held accountable," Sinema spokesperson Hannah Hurley said.
Sen. Jon Tester, a Montana Democrat and a senior member of the Banking Committee, is running for re-election and will once again have to defy political gravity in his Republican-leaning state. Tester wrote a letter calling on the Fed and FDIC to "claw back compensation" from Silicon Valley Bank executives and hold them accountable.
Sitting across from the Democrats on the Banking Committee is Sen. Steve Daines of Montana, the Republican campaign chairman, whose mission is to defeat Brown, Tester, Sinema and recapture the Senate majority for his party after two disappointing elections.
Daines chuckled when asked if he'd be keeping an eye on the vulnerable 2024 Democrats during committee hearings: "I think we'll look at what's going on at Silicon Valley Bank," he said. "The focus needs to be on facts."
Daines said he's taking a "wait and see" approach to how Congress should respond but made one position clear: "The answer is not more regulations."
A liberal bloc, with different priorities
A trio of liberal Democrats with economic-populist brands also sits on the committee: Sens. Elizabeth Warren of Massachusetts; John Fetterman of Pennsylvania; and Raphael Warnock Georgia. They'll each play a role in shaping the politics and congressional response surrounding the bank failures.
Warren, who's seeking re-election, has joined with Rep. Katie Porter, a like-minded Wall Street hawk who is running for the Senate among a crowded field of Democrats, to push for restoring the bank regulations that Congress undid in 2018.
"The failure to impose tougher regulations on these banks is a threat to the stability of our banking system overall. Everyone in this country needs to know that our banking regulators are on the job and are tough," Warren said. "And if they see problems, hold the bank's feet to the fire to fix those problems long before there is a multi-billion dollar run on the bank."
But what some expected to be a show of force by the left has been diluted by disagreements and complications. Brown is pessimistic about the passage of Warren's legislation and says his priority is to push regulators to get tougher. Fetterman, a sponsor of Warren's bill, is away from the Senate as he seeks treatment for clinical depression.
Democrats are divided on the path to take forward, with some moderate party members opposing a restoration of the scrutiny they eased in 2018.
"Politics makes it harder for many members of the committee to admit they were wrong to roll back regulations for banks like Silicon Valley in 2018, and that in turn creates a harder environment for solving problems," said a former Democratic aide on the panel.
Source: https://www.nbcnews.com/politics/congress/senate-banking-committee-faces-intense-2024-politics-bank-collapse-hea-rcna69101
Related Posts