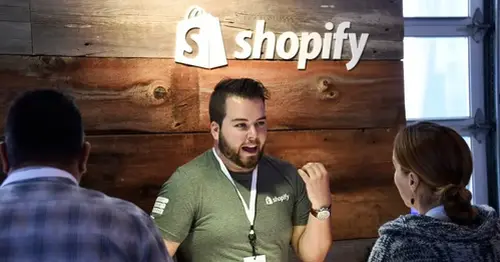 Shopify cuts 20% of its workforce
Shopify on Thursday announced it's cutting 20% of its workforce. The news came as it reported first-quarter earnings that beat analyst estimates on both the top and bottom lines.
Shares of Shopify surged more than 26% in early trading.
CEO Tobi Lütke announced the job cuts in a memo to employees posted on the company's website. He didn't specify which units will be affected as a result of the layoffs.
"I recognize the crushing impact this decision has on some of you, and did not make this decision lightly," Lütke wrote.
Shopify had about 11,600 employees and contractors as of Dec. 31, according to a securities filing.
The cuts mark the second round of layoffs for the Canadian e-commerce company. Shopify last July laid off 10% of its workforce after Lütke said the company had misjudged how long the Covid pandemic-fueled e-commerce boom would last.
More from CNBC.com
Dow drops 200 points, turns negative for the year as bank fears grow
Regional bank stocks continue to slide Thursday, with PacWest leading the way down 54%
Berkshire Hathaway is outperforming during turmoil, but Warren Buffett's favorite child, Geico, is in trouble
Lütke said Shopify is slimming down as a company as it focuses on its core business, which is making tools for companies to sell products online. The company separately announced Thursday that it's offloading its logistics unit to Flexport, a sale that includes Deliverr, the last-mile delivery company it acquired for $2.1 billion last May.
Shopify is also selling 6 River Systems, the warehouse robot maker it acquired in 2019 for $450 million, to U.K. retail tech company Ocado. Terms of the Flexport and Ocado deals weren't disclosed.
The moves bring an end to Shopify's yearslong effort to build its own logistics business. Lütke called that effort a "worthwhile side quest" that could be an independent company in the future, but said Shopify is refocusing its priorities on e-commerce software, as well as newer initiatives such as artificial intelligence.
"Shopify has the privilege of being amongst the companies with the best chances of using AI to help our customers," Lütke said.
Shopify also beat Wall Street estimates for the first quarter. The company reported revenue of $1.51 billion, which was up 25% from a year earlier, and exceeded Wall Street's projected $1.43 billion, according to Refinitiv.
Source: https://www.nbcnews.com/tech/tech-news/shopify-cuts-20-workforce-rcna82941
Related Posts