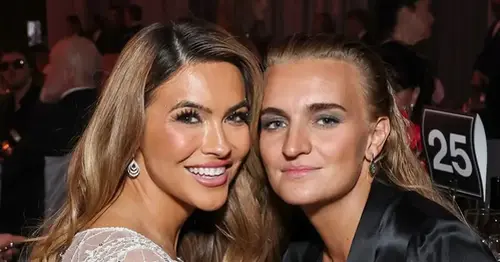 Singer G Flip and 'Selling Sunset' star Chrishell Stause celebrate their one-year anniversary
G Flip has flipped for Chrishell Stause.
The Australian singer, who uses they/them pronouns, celebrated the couple's one-year anniversary with a video shared on Instagram Wednesday.
"We started dating one year ago today," the singer, 28, wrote on the video. "So I wanted to show her the first song I ever wrote about her."
In the sweet clip, the singer and the "Selling Sunset" star, 41, are seen sitting in the front seat of a car smiling and glancing at each other lovingly as the song plays.
"I'm not what you planned / I'll be your man," G Flip wrote on the clip, captioning the song's lyrics.
After that line, Stause wipes her eyes, seemingly moved by the song.
"very very cute reaction," G Flip captioned the Instagram post.
"Yet to recover," Stause commented.
Stause also celebrated the couple's one-year anniversary with an Instagram story on her own page. The story includes a photo of G Flip with a bouquet of red roses and a message from Stause: "Our first year is gonna be hard to beat, but here's to trying! I love you babyyyyy."
Stause was previously married to "This Is Us" star Justin Hartley and dated "Selling Sunset" co-star Jason Oppenheim.
She confirmed her relationship with G Flip during a "Selling Sunset" cast reunion in May, the same month she appeared in the music video for G Flip's song "GET ME OUTTA HERE."
"You don't get to choose where you meet someone. You don't get to choose when you meet someone in their life," Stause said at the time, referring to the 13-year age gap between them.
"So recently, I've met someone that is in a different place in their life as well," she added. "I recently have been spending a lot of time with someone that's very important to me. Their name is G Flip."
Source: https://www.nbcnews.com/nbc-out/out-pop-culture/singer-g-flip-selling-sunset-star-chrishell-stause-celebrate-one-year-rcna75347
Related Posts