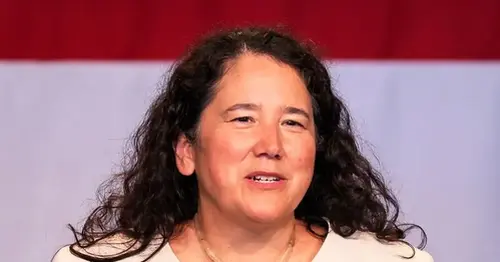 Small Business Administrator Isabella Guzman touts agency's focus on entrepreneurs
With 33.2 million small businesses accounting for almost 63% of net new job creation in the nation, the head of the Small Business Administration, who is the highest-ranking Latina in the U.S. government, says the agency's focus has been on ensuring that newly created businesses can stay open.
Isabella Casillas Guzman stepped into the position in the midst of the Covid pandemic, an economic recession and a global supply chain crisis, and those crises determined much of the agency's focus on helping small businesses navigate the complex landscape.
Owners looking to leverage loans and resources from the SBA created an opportunity for the agency to expand its reach and become more indispensable to people running small businesses, Guzman said in an interview with NBC News on Monday during a New York City trip to mark the SBA's 70th anniversary this week.
Entrepreneurs applied to start a record 5.4 million new small businesses in 2021, according to the U.S. Chamber of Commerce. The pattern remained in 2022 with 5.1 million new business applications filed.
So far this year, entrepreneurs have applied to start more than 1.7 million new businesses, Guzman said. All of these are independent businesses with fewer than 500 employees.
The numbers paint a hopeful picture following the pandemic's aftermath, which resulted in the most severe decline in employment since the Great Depression — with small-business employment declining by 9.1 million in 2020. But small-business employment has rebounded with more than 5.5 million new jobs following the recession, offsetting 60% of the decline seen in early 2020.
SBA head Guzman on 'shuttered venue' relief bill
Dec. 9, 2021
02:57
In response to the increase in small businesses, the SBA expanded business development and outreach centers across the country from 1,200 to at least 1,600. Many of them focus on the particular needs of business owners who are women, veterans and Latino, she said. The agency has also strengthened partnerships with organizations that "have trusted relationships in underserved communities" to help small-business owners gain access to capital.
The expansion of centers and networks were pivotal in nurturing relationships with new small-business owners, many of whom were first exposed to the SBA through its pandemic relief programs, such as the Paycheck Protection Program, to help them keep their workforce employed during the pandemic.
Guzman said she saw this as "an opportunity for the agency to become more known to small businesses and trusted."
She saw a need to harness ties between small-business owners and the SBA after many who applied for the PPP loans early in the pandemic didn't get the help they needed. In most cases, these were the smallest of the small businesses or those owned by Latinos, she said.
As of July 1, the SBA provided almost 11.5 million PPP loans totaling about $790.2 billion.
More than $200 billion, or almost one-fifth of all SBA funds disbursed through pandemic relief programs such as PPP loans and others, were obtained through fraudulent means, the agency's inspector general estimated in June.
But Guzman has said that the vast majority of the estimated fraud (86%) occurred in the first nine months of the pandemic under then-President Donald Trump in 2020 and not in subsequent distributions during the Biden administration.  
Simultaneously, with its center expansion, the SBA sought to build up its connections with business owners to increase their awareness of their programs and ensure they had the necessary business documents up to date.
Guzman said these "foundational tasks" will ultimately help entrepreneurs leverage additional programs and resources to access capital and grow.
Based on what they learned during the pandemic, she said, the SBA has made some improvements to its lending programs to make it easier for small-business owners to access loans. Some of these include simplifying access to applications, expanding their lenders' network and "cutting red tape," she said.
 "We believe that the reforms that we've made will, and based on evidence and performance in our portfolio for the last four decades, we'll be able to expand lending to creditworthy businesses that deserve it out there," Guzman said. 'There are many that don't get the funding that they need. Two-thirds of businesses either don't get funded at all or don't get everything that they need."
Helping small-business owners access capital will allow them to adopt new technologies at higher rates, expand their e-commerce opportunities and improve their business operations and supply chain issues, according to her.
Before leading the SBA, the Biden administration's highest-ranking Latina served as the director of the California Office of Small Business Advocate, focused on representing smaller-scale businesses and startups in a state that represents the world's fifth-largest economy.
She also had a stint at the SBA as its deputy chief of staff and senior adviser during the Obama administration overseeing policy and new program implementation.
Prior to that, she was a small-business entrepreneur herself and an adviser to fellow founders looking to accelerate technology commercialization and in helping small-business contractors leverage the federal marketplace.
Guzman, who described herself as a seventh-generation Texan, has a bachelor's degree in economics from The Wharton School of the University of Pennsylvania. She said that working beside her father at his chain of veterinary hospitals in Southern California from a very young age and seeing how it was "a pathway to building intergenerational wealth" is really what ignited her interest in entrepreneurship.
It's also influenced her management style.
"I lead the organization from a very entrepreneurial perspective and trying to focus on my customer," Guzman said. "I really have an empathy for the challenges small-business owners face, wearing multiple hats and having to make decisions to constantly change and adapt."
Source: https://www.nbcnews.com/news/latino/small-business-administrator-isabella-guzman-latina-biden-cabinet-rcna97691
Related Posts